MEGADETH LISTO PARA SALIR DE GIRA
Por Irving Vidro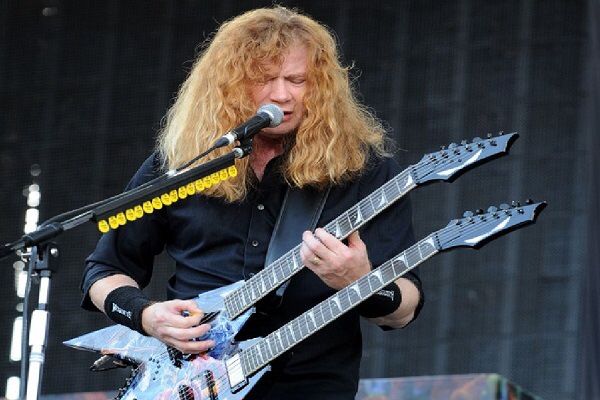 El mundo del metal se sorprendió cuando el líder de Megadeth, Dave Mustaine, reveló que le diagnosticaron cáncer el año pasado. La banda terminó cancelando el resto de sus actuaciones mientras Dave recibe tratamiento, y también simultáneamente dio los últimos toques a su próximo álbum.
Mustaine concluyó su tratamiento a fines del año pasado y le dijo a Rolling Stone que ahora "se siente realmente fuerte". Ahora está listo para volver a la acción.
Las primeras fechas reservadas de la banda desde este diagnóstico de cáncer fueron una gran gira europea por la apertura de Five Finger Death Punch. ¡La banda envió un mensaje a sus redes sociales de que realmente están de vuelta!
Megadeth is back! We can't wait to see and play for you all on the Killing Road in 2020! What songs do you want to hear? pic.twitter.com/RZOcoaHwfG

— Megadeth (@Megadeth) January 7, 2020
Tal vez un par de nuevas canciones lleguen a los setlists de los próximos shows europeos de Megadeth con Five Finger Death Punch, que comenzará a finales de este mes. Mustaine dijo anteriormente que espera lanzar nuevo material a tiempo para la gira de invierno.
En adicción hoy temprano, el líder de Megadeth se dirigió a su Twitter para desearle un feliz cumpleaños al baterista de la banda nacido en Bélgica y ahora con sede en Los Ángeles. Él escribió: "¡Feliz cumpleaños a mi extraordinario baterista, Dirk Verbeuren! Eres una potencia y tu batería en el nuevo disco es excepcional. ¡Que tengas un gran día, amigo!"
Happy birthday to my drummer extraordinaire, Dirk Verbeuren! You are a powerhouse and your drumming on the new record is exceptional. Have a great day, buddy! pic.twitter.com/TtJxRz2C5K

— Dave Mustaine (@DaveMustaine) January 8, 2020
Verbeuren había estado tocando con Soilwork durante más de una década antes de ser recomendado para el trabajar con Megadeth en 2016 por Chris Adler de Lamb of God, quien llamó a Dirk "probablemente [uno de] los tres mejores bateristas del mundo".