MASTODON ANUNCIA COMPILACIÓN 'MEDIUM RARITIES',PRESENTA SENCILLO 'FALLEN TORCHES'
Por Irving Vidro
Mastodon emitió una canción inédita, la feroz "Fallen Torches", y anunció un nuevo LP de compilación, Medium Rarities. El álbum, que sigue al Emperor of Sand de 2017, saldrá el 11 de septiembre a través de Reprise Records.
"Fallen Torches", como la mayoría de las otras canciones raras del set, hace su debut digital. Mastodon grabó la canción el año pasado en Atlanta, reclutando voces invitadas de Scott Kelly, su amigo y colaborador de toda la vida de Neurosis. La banda originalmente planeó emitir la canción en apoyo de una gira europea, pero se detuvieron para enfocarse en Stairway a Nick John, un tributo a su difunto manager de larga data Nick John.
Medium Rarities presenta versiones covers (incluyendo "A Commotion" de Feist, "A Spoonful Weighs a Ton" de The Flaming Lips, "Orion" de Metallica), contribuciones de banda sonora (como "White Walker" de Game of Thrones), instrumentales, lados B y grabaciones en vivo. Catorce de las 16 canciones nunca han aparecido en plataformas de transmisión.
Mastodon está contribuyendo con una canción, "Rufus Lives", para la próxima secuela de la película Bill & Ted Face the Music. Se proporcionarán más detalles adelante sobre la pista, que aparecerá en la banda sonora de la película. La banda de metal progresivo está trabajando actualmente en su octavo LP de material nuevo, que el baterista Brann Dailor describió recientemente como "estilizado".
"Están sucediendo algunos riffs grandes; grandes y pesados, así que eso es lo que me gusta", le dijo a Metal Hammer sobre el disco, que se lanzará tentativamente en 2021. "Y luego hay algunas gimnasias de guitarra de Brent Hinds que han sido algunas de las cosas más difíciles que he tratado de entender y tocar la batería ".
Continuó: "Así que hay algo de superalimentación proveniente de él, y algunos momentos realmente muy bonitos. Pero también hay algunas cosas pesadas y rápidas. Pero mucho de eso es un poco sombrío. ¡Pero ahí es donde estamos! "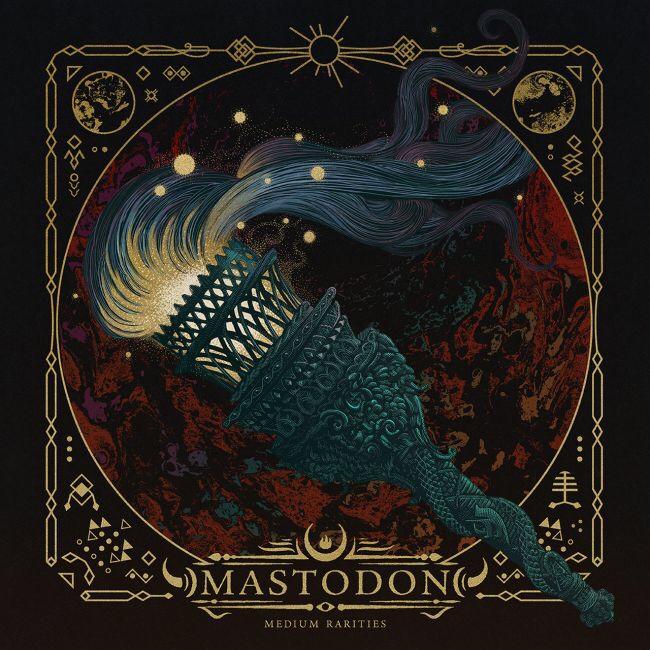 Medium Rarities:
"Fallen Torches" (Previously Unreleased)
"A Commotion" (Feist Cover)
"Asleep in the Deep" (Instrumental version)
"Capillarian Crest" (Live)
"A Spoonful Weighs A Ton" (The Flaming Lips Cover)
"Toe To Toes" (Instrumental version)
"Circle of Cysquatch" (Live)
"Atlanta" (Feat. Gibby Haynes)
"Jaguar God" (Instrumental)
"Cut You Up With A Linoleum Life" (Aqua Teen Hunger Force)
"Blood & Thunder" (Live)
"White Walker" (Game of Thrones)
"Halloween" (Instrumental version)
"Crystal Skull" (Live)
"Orion" (Metallica Cover)
"Iron Tusk" (Live)