MÁS ARTISTAS A PARTICIPAR EN TRIBUTO A DAVID BOWIE
Por Irving Vidro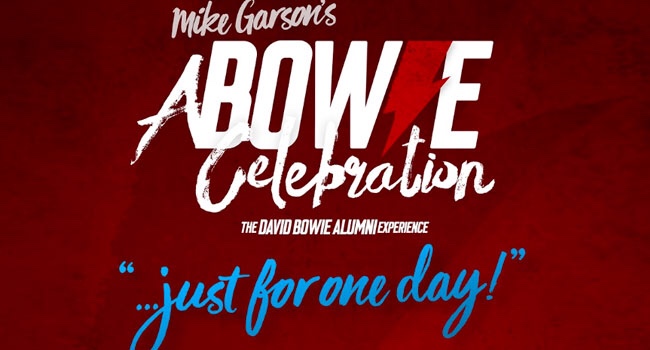 Bowie Celebration : Just For One Day es el evento de transmisión global que comenzará en 2021 a un nivel masivo el 8 de enero a partir de las 9 pm ET / 6 pm PT presentado por Mike Garson, el miembro más antiguo de la banda de David Bowie. La transmisión reunirá a una deslumbrante variedad de artistas que trabajaron con Bowie, o que fueron profundamente influenciados por él y su trabajo, para una celebración en lo que habría sido su cumpleaños y fin de semana del quinto aniversario de su fallecimiento.
Los artistas recién agregados a la lista ya de estrellas incluyen a los íconos de la música británicos ganadores del Grammy Duran Duran, la sensación vocal Adam Lambert, Yungblud en la cima de las listas del Reino Unido, el tres veces nominado al Grammy Andra Day, el actor / músico Michael C.Hall, El ícono de Mott the Hoople Ian Hunter, la cantautora y virtuosa guitarrista Anna Calvi, el galardonado músico Atticus Ross, la vocalista de Kind Heaven Orchestra Etty Lau Farrell y la vocalista de How to Destroy Angels Mariqueen Maandig Reznor.
Se unirán a ex alumnos de las bandas de Bowie que van desde su álbum homónimo de 1969 hasta su último álbum, Blackstar. Los ex alumnos recientemente anunciados que regresan para honrar a Bowie incluyen a la leyenda de la guitarra ganadora del Grammy Peter Frampton, quien fue amigo de la infancia de David y apareció en el álbum Never Let Me Down de Bowie y en su Glass Spider Tour. También se une al programa el fenómeno del saxofón ganador del Grammy, David Sanborn, que grabó en el álbum Young Americans de Bowie y participó en su gira Diamond Dogs de 1974. El teclista de YES, Rick Wakeman,también se une a la transmisión especial de A Bowie Celebration el 8 de enero después de haber tocado el piano en los álbumes Space Oddity, Hunky Dory y The Rise and Fall of Ziggy Stardust and the Spiders from Mars de Bowie.