LYNYRD SKYNYRD,STYX,.38 SPECIAL Y MÁS AL FESTIVAL SIMPLE MAN JAM
Por Irving Vidro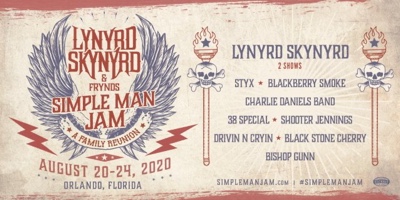 Lynyrd Skynyrd será el anfitrión de un festival de música rock de cuatro días este verano en Orlando, Florida, con invitados especiales Styx, entre otros.
Skynyrd también dará la bienvenida a .38 Special, Black Stone Cherry, Charlie Daniels Band, Blackberry Smoke, Shooter Jennings, Drivin 'N Cryin' y Bishop Gunn a Lynyrd Skynyrd & Frynds: Simple Man Jam, mientras se detienen en medio de la última gira Last of the Street Survivors Farewell Tour
Lynyrd Skynyrd nuevamente se está asociando con Sixthman para esta adquisición del hotel, transformando su Simple Man Cruise presentado conjuntamente en un festival de música en tierra, que se celebrará del 20 al 24 de agosto de 2020 en Rosen Shingle Creek. El hotel se encuentra a 10 minutos del aeropuerto internacional de Orlando en Universal Boulevard.
El programa Simple Man Jam incluye dos conciertos únicos de Lynyrd Skynyrd, una sesión íntima de preguntas y respuestas e interacciones adicionales con la banda, junto con una serie de actuaciones especiales de sus invitados musicales. Se anunciarán artistas adicionales.
"Simple Man", la última canción en el lado uno del álbum debut del grupo Pronounced 'Lĕh-'nérd' Skin-'nérd, no se lanzó inicialmente como un sencillo. Pero la canción se convirtió en una favorita en conciertos y, en la era de las descargas, se convirtió en la tercera canción digital más vendida de Lynyrd Skynyrd después de "Sweet Home Alabama" y "Free Bird", según Yahoo Music.