LANZAN SENCILLO 'TEENAGE WILDLIFE' DEL ÁLBUM 'OUVREZ LE CHIEN(LIVE DALLAS '95)' DE DAVID BOWIE
Por Irving Vidro
El equipo de David Bowie está transmitiendo una versión en vivo de 1995 de su canción de 1980, "Teenage Wildlife", como un anticipo del lanzamiento del 3 de julio de "Ouvrez Le Chien (Live Dallas 95)".
El icónico rockero fue capturado en una actuación en el Anfiteatro Starplex en Dallas, TX el 13 de octubre de 1995 durante el tramo estadounidense de la gira Outsider.
La frase "Ouvrez Le Chien" (traducida del francés a "Open The Dog") apareció originalmente en la canción "All The Madmen" del disco de 1970 de Bowie, "The Man Who Sold The World" (que celebra su 50 aniversario este año) ), aunque sin la z; el cantante también usó la frase para su canción de 1993 "Buddha Of Suburbia", una vez más deletreando "ouvre" sin una Z; luego se agregó cuando la frase y su traducción al inglés aparecieron de manera destacada en el escenario de la gira Outsider de 1995.
Además del metraje del concierto de Dallas, "Ouvrez Le Chien" también presenta dos pistas adicionales: "Moonage Daydream" y "Under Pressure", grabadas en vivo en el Centro Nacional de Exposiciones de Birmingham, Reino Unido, en diciembre de 1995; Anteriormente disponible en el CD single "Hallo Spaceboy", ambas pistas están haciendo su debut en streaming.
"Ouvrez Le Chien" sigue a la llegada de "LiveAndWell.com" en mayo como el segundo de una serie de tres grabaciones en vivo de David Bowie de los 90 que se emitirán digitalmente en los próximos meses.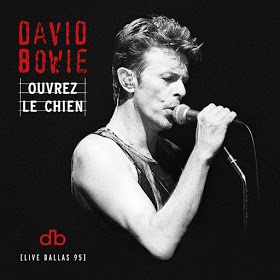 David Bowie
"Ouvrez Le Chien (Live Dallas 95)"
Lanzamiento : Julio 3
Look Back In Anger
The Hearts Filthy Lesson
The Voyeur Of Utter Destruction (As Beauty)
I Have Not Been To Oxford Town
Outside
Andy Warhol
Breaking Glass
The Man Who Sold The World
We Prick You
I'm Deranged
Joe The Lion
Nite Flights
Under Pressure
Teenage Wildlife
Grabado en vivo en Starplex Amphitheater, Dallas, Octubre 13, 1995
Moonage Daydream *
Under Pressure *
*Grabado en vivo en National Exhibition Centre, Birmingham, England, Diciembre 13, 1995