LANZAMIENTOS ANUNCIADOS Y RUMORADOS PARA 2020
Por Irving Vidro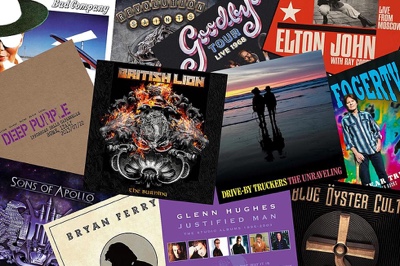 2020 está aquí, y traerá consigo una gran cantidad de nuevos álbumes de estudio, incluidos discos de algunos artistas de rock de renombre. Algunos de los lanzamientos se han confirmado, con o sin fechas, mientras que otros solo se espera o se rumorea que llegarán este año.
Uno de los álbumes posible es una nueva colección de canciones originales de The Rolling Stones. El guitarrista Ronnie Wood le dijo recientemente al periódico británico The Sun que la banda ha estado trabajando en el proyecto aún sin título, que espera llegue en algún momento de este año.
Un nuevo álbum también en llegar puede ser de AC / DC. Si bien la banda no ha confirmado nada, varias fuentes han informado que los miembros sobrevivientes de la formación clásica del grupo están trabajando en un disco construido alrededor de pistas inacabadas de principios de 2000 con el guitarrista fallecido Malcolm Young.
Mirando los álbumes confirmados, a principios de 2020 verá la llegada de un nuevo disco de Ozzy Osbourne, Ordinary Man, su primer esfuerzo en solitario desde Scream de 2010. El disco fue grabado en colaboración con el baterista de los Red Hot Chili Peppers, Chad Smith, y el bajista de Guns N 'Roses, Duff McKagan.
Green Day regresará con su nuevo álbum Father of All …, la continuación de Revolution Radio de 2016, el 7 de febrero. Ese segundo mes también verá el lanzamiento del álbum acústico de Stone Temple Pilots, Perdida.
Bon Jovi tiene un nuevo álbum titulado, apropiadamente, Bon Jovi 2020, que saldrá esta primavera. Presentará una canción llamada "Unbroken", que se lanzó como sencillo en noviembre.
Dennis DeYoung también lanzará un nuevo álbum en solitario esta primavera llamado 26 East: Volume 1, que será el primero del ex-cantante / tecladista de Styx desde 2009.
Otros artistas de rock clásico que se espera que lancen nuevos álbumes incluyen Red Hot Chili Peppers, que acaba de recibir al guitarrista John Frusciante de regreso, Pearl Jam y Deep Purple.
Enero 3
Deep Purple, Live in Rome 2013 (2CD)
Steven Wilson, Grace for Drowning (remastered)
Jan. 10
Bad Company, Desolation Angels: 40th Anniversary Edition
Enero 17
British Lion [Iron Maiden's Steve Harris], The Burning
Marcus King [Tedeschi Trucks Band], El Dorado
Marshall Crenshaw, Miracle of Science
Sons of Apollo, MMXX
Enero 24
Blue Oyster Cult, Hard Rock Live Cleveland 2014; Cult Classic (remastered)
Dave Clark Five, All the Hits
Elton John with Ray Cooper, Live From Moscow 1979
John Fogerty, 50 Year Trip: Live at Red Rocks (2LP / DVD)
Nektar, The Other Side
Revolution Saints, Rise
Pet Shop Boys, Hotspot
Enero 31
Ben Watt, Storm Damage
Bryan Ferry, Live at the Royal Albert Hall 1974
Cream, Goodbye Tour Live 1968 (4CD box)
Dashboard Confessional, The Best Ones of the Best Ones (vinyl)
Drive-By Truckers, The Unraveling
Glenn Hughes, Justified Man: The Studio Albums 1995-2003 (6CD clamshell box)
Howard Jones, One to One (2CD / 3CD / vinyl)
Febrero 7
Green Day, Father of All …
Richard Marx, Limitless
Stone Temple Pilots, Perdida
Febrero 11
Harry Nilsson, The Point [Blu-ray]
Febrero 13
Zakk Sabbath, Vertigo (CD/DVD)
Febrero 14
Tame Impala, The Slow Rush
Febrero 21
Dio, The Studio Album Collection: 1996-2004
Eric Burdon and the Animals, When I Was Young: The MGM Recordings 1967-68 (5CD remastered and expanded set)
Mitch Ryder and the Detroit Wheels, Sockin' It to You: The Complete Dynovoice / New Voice Recordings
Peter Green, The End of the Game: 50th Anniversary Expanded Edition
Yacht Rock Revue, Hot Dads in Tight Jeans
The 1975, Notes on A Conditional Form
Marzo 6
Peter Buck [R.E.M.] and Luke Haines, Beat Poetry for the Survivalist
Marzo 13
Maria McKee, La Vita Nuova
Marzo 20
Renaissance, Turn of the Cards (expanded clamshell boxset)
Marzo 27
The Alan Parsons Project, Ammonia Avenue (3CD/Blu-ray limited-edition deluxe reissue)
Abril 3
The Monkees, The Mike & Micky Show Live
Mayo 15
Weezer, Van Weezer
Fecha por anunciar o rumor:
Ace Frehley, Origins Vol. 2
Adler
Alice Cooper
Bad Company
Bon Jovi, 2020
Chris Robinson
Deep Purple
Def Leppard (grabación en vivo 1980 )
Deftones
Dennis DeYoung, 26 East: Volume 1
Doobie Brothers, (EP)
Extreme
Foo Fighters
George Clinton, One Nation Under Sedation
Greta Van Fleet
Guns N' Roses
Huey Lewis and the News, Wheater
Jethro Tull, The Ballad of Jethro Tull (libro con nuevo material)
Joey Molland [Badfinger]
Kansas
Kinks (reunion LP)
Krokus
Lemmy Kilmister (solo debut)
Mick Mars / John Corabi
Neil Young, Homegrown; Ragged Glory (expanded edition)
Ozzy Osbourne, Ordinary Man
Paul Stanley and Soul Station
Pearl Jam
Pink Floyd, Animals (5.1 surround-sound reissue)
Robert Plant
Scorpions
Skid Row
Styx
The Cure
The Killers, Imploding The Mirage
The Strokes
Tom Petty Wildflowers: All the Rest
Wolfgang Van Halen