LAMB OF GOD ANUNCIA DOS EVENTOS ESPECIALES DE TRANSMISIÓN EN VIVO
Por Irving Vidro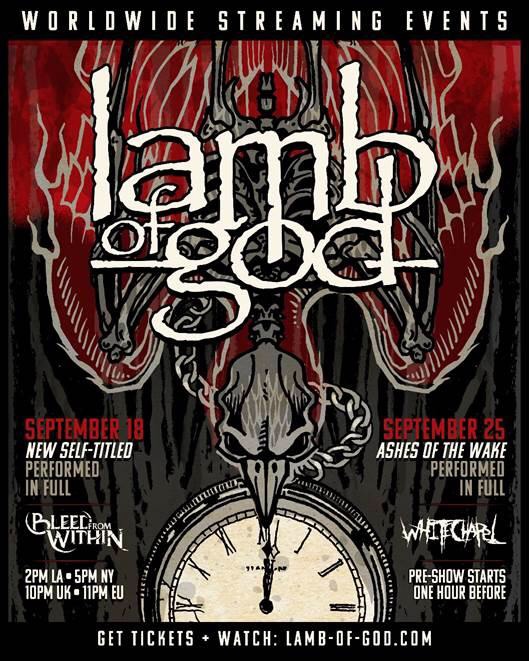 Lamb of God ha anunciado dos grandes eventos mundiales de transmisión en vivo para este año. En las visitas virtuales, la banda presentará su nuevo disco de larga duración, "Lamb of God", junto con su LP de 2014, "Ashes of the Wake", en su totalidad.
Filmado desde su ciudad natal en Virginia, la primera transmisión está programada para el viernes 18 de septiembre y contará con una lista de canciones que consta de canciones de su último álbum homónimo.
La segunda transmisión también se realizará en Richmond el viernes 25 de septiembre y verá una presentación de "Ashes of the Wake" en su totalidad por primera vez.
Ambos sets comienzan a las 5 PM EDT / 2 PM PDT y contarán con encores, incluidos los favoritos de los fanáticos, así como canciones que no se han interpretado en años.
Los boletos para la transmisión en vivo costarán $ 15 por espectáculo o un paquete por tiempo limitado de $ 20 para ambos espectáculos y están a la venta ahora. Para los fanáticos que compren boletos, las transmisiones estarán disponibles para ver a través de video a pedido hasta las 11:59 p.m.EDT del domingo. Además, la banda ofrecerá boletos y paquetes de merchandising limitados, además de una tienda de mercadería exclusiva disponible solo para los poseedores de boletos durante la transmisión.
Además, según un comunicado oficial,un pre-show está programado para comenzar a las 4 p.m. EDT / 1 p.m. PDT antes de cada transmisión, presentado por Jose Mangin, con entrevistas exclusivas con miembros de la banda y sets de apertura de Bleed From Within (18 de septiembre) y Whitechapel (25 de septiembre). Bleed from Within transmitirá un nuevo set de producción completa de 30 minutos y Whitechapel transmitirá su memorable actuación en la ciudad natal de 2014 desde Knoxville, TN.