KISS RINDE TRIBUTO A KOBE BRYANT EN SU PRESENTACIÓN EN STAPLES CENTER
Por Irving Vidro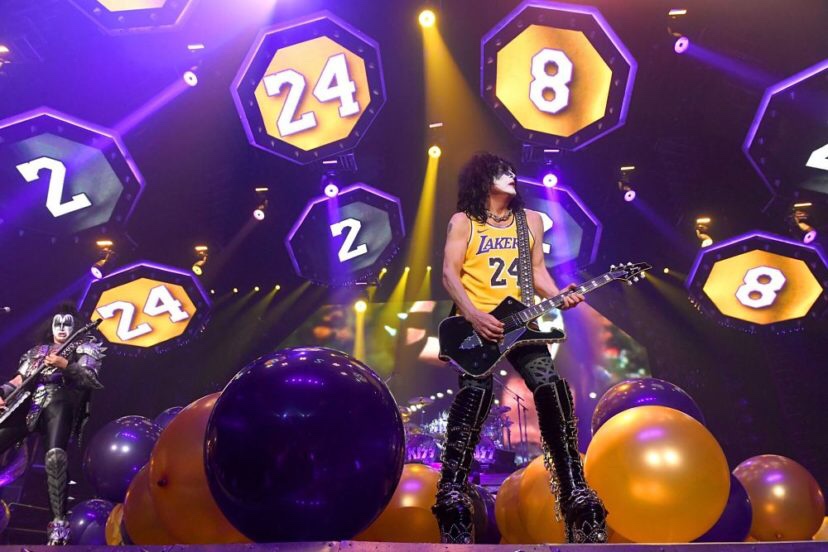 Anoche, KISS llevó su espectáculo End of the Road a su hogar adoptivo de Los Ángeles. Analizar su catálogo de éxitos no debería haber sido una sorpresa: generalmente tocan el mismo set todas las noches. Eso incluye usar el mismo atuendo de escenario todas las noches.
Sin embargo, llamó la atención un mensaje que sorprendió a la multitud del Staples Center.
Después de la primera canción encore de la banda de "Beth", Paul Stanley agarró el micrófono para decirle a la multitud que estaban en la casa que construyó Kobe y luego se puso una camiseta # 24 de Kobe Bryant.
"Ninguno de nosotros estaría aquí si este lugar no fuera realmente como un monumento a alguien que era mucho más que un jugador de baloncesto, alguien que ha sido un modelo a seguir", dijo Stanley antes de interpretar"Do You Love Me?" "Y esta noche, creo que dedicamos este espectáculo no solo a Kobe y su hija Gigi, sino a todas las personas que perecieron en ese helicóptero".
Cuando KISS comenzó la canción, cayeron globos púrpura y dorados de las vigas y los números 2, 8 y 24 adornaron las pantallas en homenaje a Kobe y Gianna Bryant.
Mira el momento del show de anoche en Los Ángeles a continuación: