KING CRIMSON A LANZAR COLECCIÓN DE 26 DISCOS
Por Irving Vidro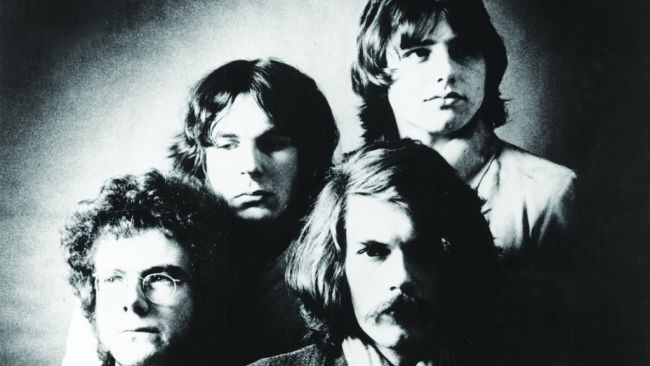 King Crimson ha anunciado que lanzará un enorme set de 26 discos, The Complete 1969 Recordings, a través de Panegyric el 23 de octubre.
El nuevo set presenta una nueva mezcla de Dolby Atmos de Steven Wilson del álbum debut de la banda de 1969 In The Court Of The Crimson King, material de sesión de 6 CD en CD y Blu-Ray por primera vez (completamente mezclado por David Singleton ), un disco adicional de material de estudio recién compilado, la caja también incluye el álbum de estudio original, cada toma alternativa que se sabe que existe, cada mezcla que se sabe que existe, todas las grabaciones en vivo que se sabe que existen y una selección de grabaciones pre / Crimson 1968 de Giles , Giles y Fripp.
Al igual que con los siete juegos en caja anteriores de la serie, The Complete 1969 Recordings viene en una caja de tamaño de vinilo completa con un folleto con una introducción de Robert Fripp, notas sobre las cintas originales de David Singleton, notas de portada del biógrafo de King Crimson y el escritor de Prog Sid Smith, fotos inéditas de las sesiones de grabación, recuerdos adicionales y una funda exterior protectora.
"Definitivamente me divertí un poco más con la mezcla de Atmos, cuidado con los solos y melotrones que circulan por encima de mi cabeza", dice Wilson, mientras Singleton agrega: "Escuchar las sesiones de grabación originales fue asombroso. El tiempo se colapsa y de repente estás ahí en el estudio con una banda joven, recién comenzando, mientras experimentan con la grabación de su primer álbum. No se trata tanto de escuchar un producto ingenioso, sino de presenciar un proceso. Estás presente en el nacimiento ".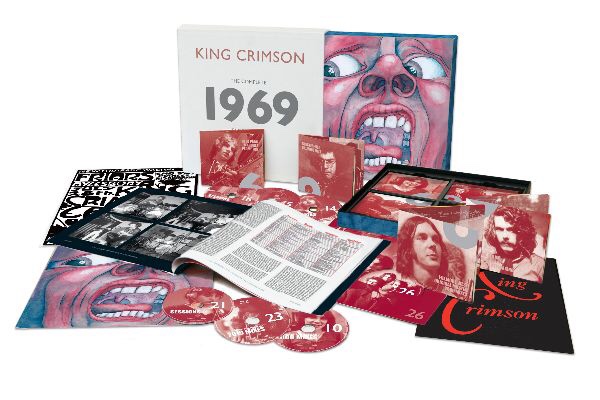 King Crimson: The Complete 1969 Recordings
Discs 1 – 18, 25, 26 CD
Disc 19 DVD, Disc 20 DVD-A,
Discs 21 – 24 Blu-Ray
Disc 1
Live at Hyde Park

1 21st Century Schizoid Man
2 The Court of the Crimson King
3 Get Thy Bearings
4 Announcement (Incomplete)
5 Epitaph
6 Mantra
7 Travel Weary Capricorn
8 Mars
9 Band Reunion Meeting

Disc 2
Live at the Marquee

1 21st Century Schizoid Man
2 Drop In
3 Announcement (Incomplete)
4 I Talk To The Wind
5 Epitaph (Incomplete)
6 Travel Weary Capricorn
7 Improv (inc Nola and Etude No. 7)
8 Mars

Disc 3
Live at Plumpton Festival

1 21st Century Schizoid Man
2 Get Thy Bearings
3 Announcement
4 The Court Of The Crimson King
5 Mantra
6 Travel Weary Capricorn
7 Improv
8 Mars

Disc 4
Live at Chesterfield Jazz Club

1 21st Century Schizoid Man
2 Drop In
3 Announcement
4 Epitaph
5 Get Thy Bearings
6 Announcement
7 I Talk To The Wind

Disc 5
Live at Chesterfield Jazz Club

1 Announcement
2 The Court Of The Crimson King
3 Mantra
4 Travel Weary Capricorn
5 Improv
6 Mars

Disc 6
Live at the Fillmore East

1 The Court Of The Crimson King (Incomplete)
2 Announcement
3 A Man, A City
4 Announcement
5 Epitaph
6 Announcement
7 21st Century Schizoid Man
8 The Court Of The Crimson King (Incomplete)
9 Announcement
10 A Man, A City
11 Announcement
12 Epitaph
13 Announcement
14 21st Century Schizoid Man

Disc 7
Live at the Fillmore West

1 Mantra
2 Travel Weary Capricorn
3 Improv Travel Bleary Capricorn
4 Mars
5 The Court of the Crimson King
6 Announcement
7 Drop In
8 A Man, A City
9 Announcement
10 Epitaph
11 Announcement
12 21st Century Schizoid Man
13 Announcement
14 Mars

Disc 8
Album – Original Master Edtion – expanded

1 21st Century Schizoid Man
2 I Talk to the Wind
3 Epitaph
4 Moonchild
5 The Court of the Crimson King
6 21st Century Schizoid Man
7 I Talk to the Wind
8 Epitaph
9 The Court of the Crimson King (Single A Side)
10 The Court of the Crimson King (Single B Side)

Disc 9
Alternate album – expanded

1 Wind Session
2 21st Century Schizoid Man (Morgan Studio Version with Overdubs)
3 I Talk To The Wind (Alt 2019 Mix)
4 I Talk To The Wind (Duo Version 2019 Mix)
5 Epitaph (Isolated Vocal 2019 Mix)
6 Epitaph (Alt Take 2019 Mix)
7 Moonchild (Take One 2019 Mix)
8 The Court of the Crimson King (Take 3 2019 Mix)
9 21st Century Schizoid Man (Trio Version 2019 Mix)

Disc 10
2009 Album Mixes – expanded

1 21st Century Schizoid Man
2 I Talk to the Wind
3 Epitaph
4 Moonchild
5 The Court of the Crimson King
6 Moonchild [Full Version]
7 I Talk to the Wind [Duo Version]
8 I Talk to the Wind [Alternate Mix]
9 Epitaph [Backing Track]
10 Wind Session [21st Century Schizoid Man Intro]

Disc 11
2019 Album Mixes & Instrumental Mixes

1 21st Century Schizoid Man
2 I Talk to the Wind
3 Epitaph
4 Moonchild
5 The Court of the Crimson King
6 21st Century Schizoid Man
7 I Talk to the Wind
8 Epitaph
9 Moonchild (Edit)
10 The Court of the Crimson King

Disc 12
Let's Make a Hit Waxing

1 Let's Make a Hit Waxing

Disc 13
Sessions Disc 1

1 21st Century Schizoid Man (Morgan Studio Instrumental)
2 Epitaph Takes 1 to 3
3 Epitaph Takes 4 to 8
4 I Talk to the Wind Takes 1 to 4

Disc 14
Sessions Disc 2

1 I Talk to the Wind Takes 5 to 8
2 I Talk to the Wind Takes 9 to 12
3 The Court of the Crimson King Stereo Takes

Disc 15
Sessions Disc 3

1 The Court of the Crimson King Take 6
2 The Court of the Crimson King Take 1 and 2
3 The Court of the Crimson King Takes 3 to 7
4 The Court of the Crimson King Takes 8 to 10
5 The Court of the Crimson King Trailer Take 1

Disc 16
Sessions Disc 4

1 The Court of the Crimson King (Stormy Mix)
2 I Talk to the Wind Takes 3 to 6
3 I Talk to the Wind Takes 7 to 9
4 I Talk to the Wind Early Take
5 Drum Check
6 21st Century Schizoid Man Sax Sound Check
7 Ahh (Stormy Mix)
8 I Talk to the Wind (Stormy Mix)

Disc 17
Sessions Disc 5

1 Epitaph Takes 1 to 3
2 Epitaph Takes 5 – 11
3 Epitaph Take 2 (Stormy Mix)

Disc 18
Sessions Disc 6

1 Moonchild Takes 1 to 8
2 Moonchild Take 9 (complete)
3 Trailer Take and Take Overdubbed
4 Pipe Organ Takes
5 Wind Noise Takes
6 The Court of the Crimson King Takes

Disc 19
DVD
24/48 Complete Studio Sessions
24/48 Let's Make a Hit Waxing
16/48 Stormy Selections

Disc 20
DVD-A
24/48 Original Master Edition
24/48 2019 album mixes in hi-res stereo and 5.1 Surround

Hyde Park Film Snippet

Disc 21
Blu-Ray
24/192 Giles, Giles and Fripp – as per CD 25
24/96 Complete Studio Sessions
24/192 Live at Chesterfield Jazz Club

Disc 22
Blu-Ray
24/96 2009 Hi-Res Stereo and 5.1 Surround Mixes
24/96 Additional audio and Alternate album from the 2009 mixes
24/48 Original 1969 vinyl needledrops of UK stereo & US Mono Promo LPs
24/48 Original 1969 Mono UK Single A and B Sides and US Promo Single A Side

Disc 23
Blu-Ray
24/96 2019 Mixes in Stereo, 5.1 Surround and Instrumental Mixes
24/96 Original Master Edition
24/96 2019 Alternate Album and Additional Material Mixes

Hyde Park Film Snippet (audio mono)

Disc 24
Blu-Ray
2020 Dolby Atmos Mix
24/96 I Talk to the Wind (duo version) 5.1 Surround *
audio through four channels only
24/96 Let's Make a Hit Waxing

Disc 25
Selected Recordings 1968

Giles, Giles and Fripp

1 Tremelo Study in A Major (Spanish Suite)
2 Suite No. 1
3 Scrivens
4 Why Don't You Just Drop In (i)
5 I Talk to the Wind (i)
6 Plastic Pennies
7 Passages of Time
8 Under the Sky (ii)
9 I Talk to the Wind (ii)
10 Erudite Eyes
11 Make it Today (ii)
12 Wonderland
13 Why Don't You Just Drop In (ii)
14 She is Loaded

Disc 26
BBC Sessions and Trees

1 21st Century Schizoid Man
2 Epitaph
3 The Court of the Crimson King
4 I Talk to the Wind
5 Get Thy Bearings

Live at Fairfield Hall, Croydon

6 Trees