JOE SATRIANI,STEVE VAI,RIK EMMETT Y MÁS A PRESENTARSE EN SIX STRING SALUTE
Por Irving Vidro
El 17 de septiembre, Six String Salute estrenará un concierto virtual para apoyar y celebrar a los equipos de giras y lugares que son la columna vertebral de la música en vivo y dependen de los espectáculos para ganarse la vida. Six String Salute reunirá a guitarristas y bandas centradas en la guitarra para compartir actuaciones exclusivas y grandes historias de rock and roll en apoyo de Crew Nation, un fondo de ayuda global para equipos de música en vivo.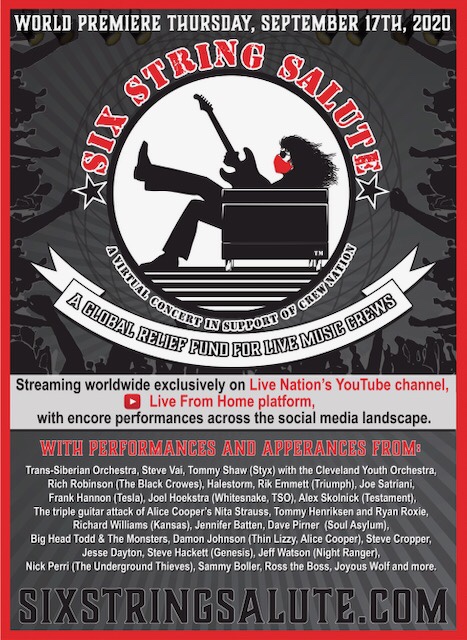 El debut del evento se transmitirá en todo el mundo exclusivamente en el canal de YouTube de Live Nation y la plataforma Live From Home, y el 100% de las ganancias netas beneficiará a Crew Nation.
Los artistas confirmados para aparecer incluyen: Trans-Siberian Orchestra, Steve Vai, Tommy Shaw (Styx) con la Cleveland Youth Orchestra, Rich Robinson (The Black Crowes), Halestorm, Rik Emmett (Triumph), Joe Satriani, Joel Hoekstra (Whitesnake, TSO ), Frank Hannon (Tesla), el triple ataque de guitarra de Nita Strauss, Tommy Henriksen y Ryan Roxie de Alice Cooper, además de Richard Williams (Kansas), Alex Skolnick (Testament), Jennifer Batten, Dave Pirner (Soul Asylum), Big Head Todd & The Monsters, Damon Johnson (Thin Lizzy, Alice Cooper), Steve Cropper, miembro del Salón de la Fama del Rock and Roll, Jesse Dayton, Steve Hackett (Genesis), Jeff Watson (Night Ranger), Nick Perri (The Underground Thieves), Sammy Boller , Ross the Boss, Joyous Wolf y más.
Además, varios miembros de equipos de bandas prominentes también compartirán sus historias y relatos de la carretera durante la noche.
Six String Salute será presentado por Steve Black (The Chop Shop), locutor de radio sindicado a nivel nacional.
La mercancía de edición limitada estará disponible y las ganancias beneficiarán a Crew Nation. Los fanáticos también pueden hacer una donación directa a Crew Nation a través del sitio web del evento. Crew Nation es impulsado por Music Forward Foundation, una organización benéfica 501c3, que administra el fondo.