IRON MAIDEN ANUNCIA THE LIVE COLLECTION – REMASTERED
Por Irving Vidro

Parlophone Records continuará su serie de reediciones del catálogo IRON MAIDEN con un quinto conjunto de títulos de CD de Digipak en The Live Collection – Remastered, que se lanzará el 19 de junio. Los álbumes incluidos en este lanzamiento son las grabaciones seminales en vivo de Live After Death y Rock In Rio.
Live After Death se grabó en Long Beach Arena, California, en marzo de 1985 en el legendario World Slavery Tour de la banda, que comenzó en Polonia en agosto de 1984. Compuso 187 espectáculos en todo el mundo y convirtió a Iron Maiden en una de las bandas más grandes de el planeta. El álbum, que también presenta pistas adicionales grabadas en el Hammersmith Apollo de Londres, es ampliamente considerado como uno de los mejores álbumes en vivo de todos los tiempos.
Rock In Rio fue grabado el 19 de enero de 2001, en la última noche de Brave New World Tour de Iron Maiden. La actuación fue frente a 100,000 fanáticos y posteriormente se transmitió a nivel mundial por televisión.
The Live Collection – Remastered sigue a los lanzamientos recientes de The Studio Collection – Remastered, una serie de lanzamientos de cuatro partes que cubren todo su catálogo de dieciséis álbumes de estudio. Los álbumes presentan el audio tomado del proyecto Mastered for iTunes 2015 y las nuevas colecciones son la primera vez que estas versiones están disponibles en CD.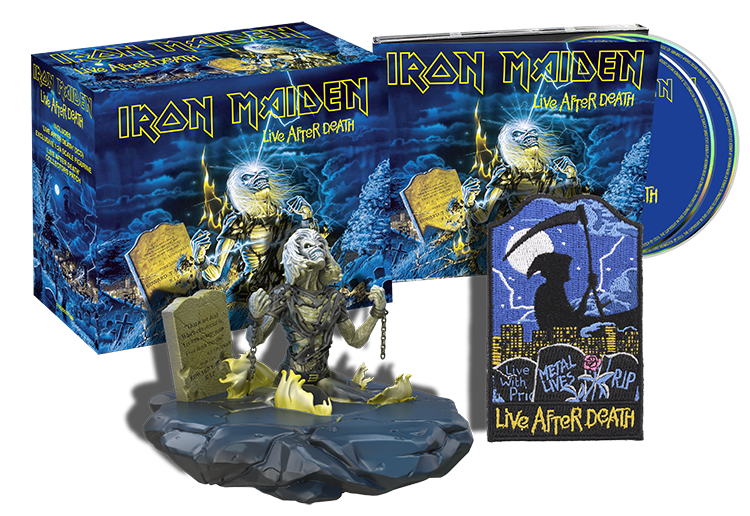 Como beneficio adicional para los coleccionistas, un CD de cada lote de lanzamientos está disponible opcionalmente en una caja especialmente diseñada con una figura en escala 1:24 y un parche exclusivo. En este quinto lote, será Live After Death. Ambos álbumes en este conjunto están disponibles para pre-pedido ahora.