I'LL NEVER FORGET YOU:THE LAST 72 HOURS OF LYNYRD SKYNYRD EN DVD
Por Irving Vidro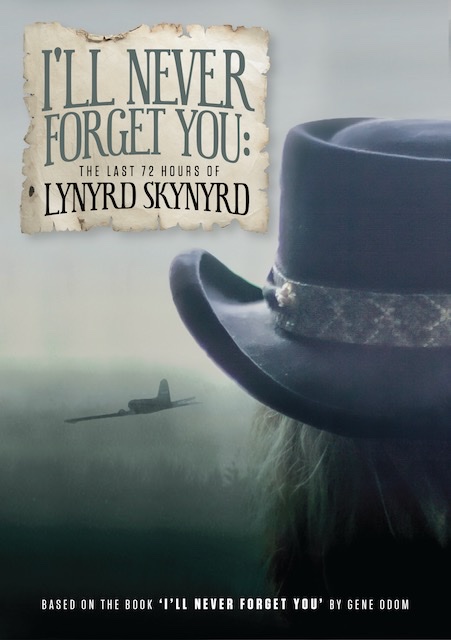 En el apogeo de su fama en 1977, la banda de rock del sur, Lynyrd Skynyrd, sufrió una tragedia: un accidente aéreo que mató al fundador y cantante principal de la banda, Ronnie Van Zant, junto con Steve Gaines, la cantante de respaldo Cassie Gaines, el asistente del gerente de la carretera Dean Kilpatrick , piloto Walter McCreary y copiloto William Gray.I'll never forget you : The last 72 hours of Lynyrd Skynyrd narra la historia de tres sobrevivientes: el guardia de seguridad Gene Odom, el cantante de respaldo Leslie Hawkins y el técnico de guitarra Craig Reed. Estos supervivientes dan sus relatos de primera mano sobre los tiempos salvajes de la banda, las 72 horas previas al choque, el terrible choque en sí y sus consecuencias.
El documental presenta imágenes originales de la vida detrás de escena de la banda con la banda antes del accidente, representaciones dramáticas que ilustran escenas dramáticas clave y animaciones CG de alta gama, incluida una simulación del accidente aéreo que coincide con el informe de NTSB. También se capturaron entrevistas raras con cuatro socorristas, filmadas en el lugar del accidente en Gillsburg, Mississippi. Basado en el libro de Gene, I'll Never Forget You, este documental ofrece el grato recuerdo del viaje de un hombre con esta legendaria banda, pero lo más importante, la pérdida de su querido amigo. La perspectiva única de Gene y su sensibilidad práctica le otorgan un acceso único a la historia detrás de escena, la celebración y la tragedia.
La película entrelaza las historias de los tres sobrevivientes para pintar una imagen de lo que pudo haber sido y la red de decisiones trágicas que llevaron al accidente aéreo que alteró para siempre sus vidas, y el lugar de Lynyrd Skynyrd en la historia.
I'll never forget you:The last 72 hours of Lynyrd Skynyrd saldrá en DVD el 13 de diciembre. A continuación se puede encontrar un avance de video.
https://youtu.be/RjkI2oJ6j-8