HINDER A CELEBRAR 15 AÑOS DE 'EXTREME BEHAVIOR' EN GIRA
Por Irving Vidro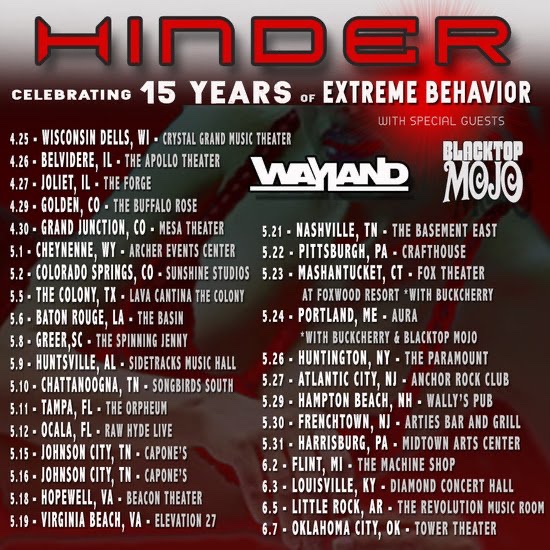 Hinder saldrá de gira para celebrar el 15to aniversario de su álbum debut, "Extreme Behavior", tocando el álbum en vivo en su totalidad por primera vez. "Extreme Behavior" alcanzó el número 6 en el Billboard 200 y el número 2 en la lista de Top Rock Albums y el segundo sencillo "Lips Of An Angel" se convirtió en una de las canciones más grandes del año, alcanzando el Top 10 en varias listas de singles de Billboard , incluido el número 1 en el Top 40 y Pop 100. "Extreme Behavior" ha sido certificado tres veces platino.
El baterista Cody Hanson dijo: "Es un sentimiento extraño pensar que nuestro primer álbum de sello principal salió hace 15 años.
"Esta gira será la primera vez que tocamos algunas de estas canciones desde 2005.
"Volver al catálogo trae muchos recuerdos de dónde estábamos cuando se escribió cada canción. ¡Estoy ansioso por ver cómo reacciona la gente a cada canción en los shows!"
Hinder lanzó recientemente su versión del clásico "Life In The Fast Lane" de Eagles. La banda está trabajando en nuevo material y se dirigirá al estudio a finales de este año. Los planes de lanzamiento para el séptimo álbum de estudio de Hinder se anunciarán pronto. El set seguirá a "The Reign" de 2017 y será el primero que hagan completamente en sus propios términos.
Abr. 25 – Wisconsin Dells, WI – Crystal Lake Music Theatre
Abr. 26 – Belvidere, IL – The Apollo Theatre
Abr. 27 – Joliet, IL – The Forge
Abr. 29 – Golden, CO – The Buffalo Rose
Abr. 30 – Grand Junction, CO – Mesa Theater
May 01 – Cheyenne, WY – Archer Events Center
May 02 – Colorado Springs, CO – Sunshine Studios Live
May 05 – The Colony, TX – Lava Cantina
May 06 – Baton Rouge, LA – The Basin
May 08 – Greer, SC – The Spinning Jenny
May 09 – Huntsville, AL – Sidetracks
May 10 – Chattanooga, TN – Songbirds South
May 11 – Tampa, FL – The Orpheum
May 12 – Ocala, FL – Raw Hyde Live
May 14 – Memphis, TN – TBD
May 15 – Johnson City, TN – Capone's
May 16 – Johnson City, TN – Capone's
May 18 – Hopewell, VA – Beacon Theater
May 19 – Virgina Beach, VA – Elevation 27
May 21 – Nashville, TN – The Basement East
May 22 – Pittsburgh, PA – Crafthouse
May 23 – Mashantucket, CT – Foxwoods
May 24 – Portland, ME – Aura
May 26 – Huntington, NY – The Paramount
May 27 – Atlantic City, NJ – Anchor Rock Club
May 29 – Hampton Beach, NH – Wally's
May 30 – Frenchtown, NJ – Arties Bar & Grill
May 31 – Harrisburg, PA – Midtown Arts Center
Jun 02 – Flint, MI – Machine Shop
Jun 03 – Lexington, KY – Diamond Concert Hall
Jun 05 – Little Rock, AR – Revolution Music Room
Jun 07 – Oklahoma City, OK – Tower Theatre