GREAT WHITE : GRABACIONES DEMO DISPONIBLES EN 'THE ROOTS OF GREAT WHITE 1978-1982'
Por Irving Vidro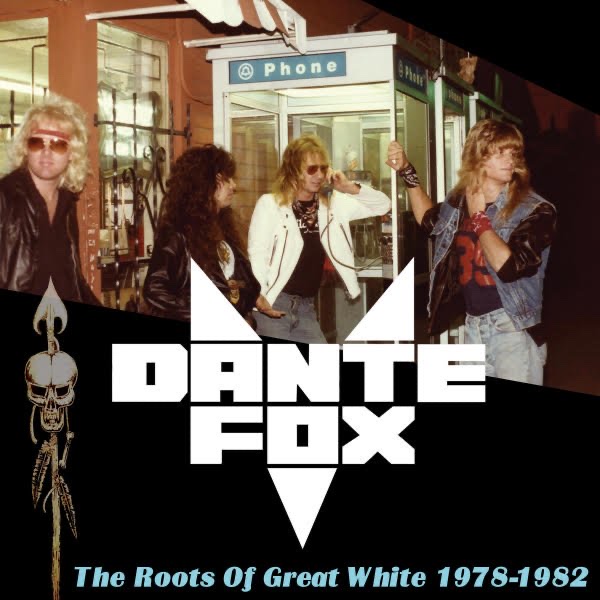 La historia de los íconos del hard rock GREAT WHITE, mejor conocidos por sus exitosos sencillos "Once Bitten, Twice Shy" y "Rock Me", comienza con la reunión del vocalista Jack Russell y el guitarrista Mark Kendall. La asociación entre estos dos artistas extraordinariamente talentosos produciría múltiples álbumes que vendían platino e hizo de GREAT WHITE uno de los conjuntos de rock más temibles que salieron desde el 'barril de pólvora' de metal de los años 80 de California. Pero antes de que Russell y Kendall formaran GREAT WHITE, primero se unieron como DANTE FOX, una banda de jóvenes advenedizos de corta duración y duro que golpearon canciones originales escritas por Russell y Kendall. Y ahora, por primera vez, estas primeras demostraciones se lanzan a los fanáticos y coleccionistas por igual en la compilación "The Roots Of Great White 1978-1982", disponible tanto en CD como en vinilo azul de edición limitada, cortesía de Deadline Music, una división de Cleopatra Records, Inc.
Esta excelente compilación incluye canciones que eventualmente llegarían al álbum debut homónimo de GREAT WHITE en 1984 como "In Love" (más tarde reescrito como "On Your Knees") y "Money" (más tarde reescrito como "Stick It" "). Como el propio Russell señala: "Aunque aproximadamente grabado en la cinta de ocho pistas, el oyente tendrá una idea de lo que vendrá. Representan el nacimiento de la banda que más tarde se convirtió en Great White".
"The Roots Of Great White 1978-1982" estará disponible en todos los lugares que se vendan discos a partir del 25 de octubre.
Listado de canciones :
01. In Love
02. Last Time
03. Motor Love
04. Money
05. Head Over Heels
06. There's No Way
07. Front Row Girl
08. The Strike
09. Bead In The Rain
10. Lonnie Never Lied
11. Stay Away
12. Need Your Love
13. On The Run
14. She's Got Fever
15. Calling You
16. Space Age Rock
17. The Blues