'FOR THE LOVE OF METAL LIVE' DE DEE SNIDER INCLUIRÁ TEMA DE AC/DC Y NUEVO TEMA 'PROVE ME WRONG'
Por Irving Vidro
El próximo álbum de concierto de Dee Snider incluirá una versión de "Highway to Hell" de AC / DC, así como una nueva canción de estudio, "Prove Me Wrong".
For the Love of Metal Live llega el 31 de julio como una colección de Blu-ray / DVD / CD. Se grabó cuando Snider recorrió el mundo detrás de For the Love of Metal de 2018, y presenta muchas canciones de ese álbum, más clásicos de Twisted Sister y otros favoritos en solitario. La descarga digital agrega tres canciones, y la porción de video incluye segmentos de entrevistas.
"La respuesta a For the Love of Metal fue tan fuerte, y mi nueva banda tan buena, que quería capturar 'Dee Snider' para el nuevo milenio", dijo Snider en un comunicado de prensa. "Todos mis otros lanzamientos de conciertos en vivo son todo sobre el pasado Y aunque mi pasado está representado aquí, se presenta junto con mi nueva música, interpretada por mi nueva banda y está muy 'en el ahora ". Las entrevistas incluidas dan una idea de mi mundo, mi viaje y mi evolución desde que comencé hace casi 50 años ".
El CD en vivo de For the Love of Metal concluye con la nueva canción "Prove Me Wrong".
Snider señaló que la frase del título ha sido durante mucho tiempo un mantra para él. "'Prove Me Wrong' son palabras que he pensado en mi cabeza desde el día en que comencé a cantar", dijo. "Tenía un monstruo en mi hombro y desafió al mundo a noquearlo. … Nadie pudo nunca. En este punto de mi carrera, pensé que dejaría a todos saber lo que ha estado sucediendo durante todos estos años. ¡Prueba que estoy equivocado!"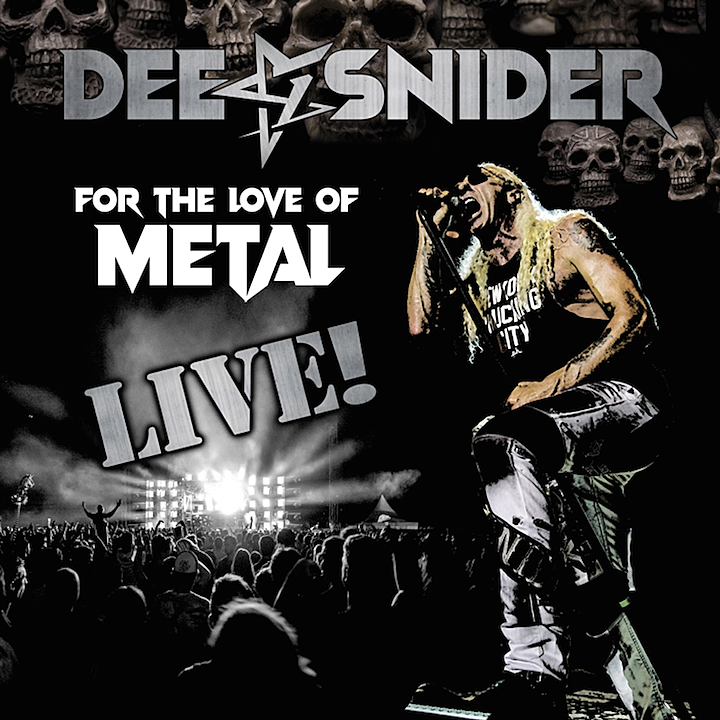 Dee Snider, 'For the Love of Metal Live' Track Listing
CD
"Lies Are A Business"
"Tomorrow's No Concern"
"You Can't Stop Rock 'N' Roll"
"The Beast"
"American Made"
"Under the Blade"
"The Kids Are Back"
"Become the Storm"
"We're Not Gonna Take It"
"I Am the Hurricane"
"Burn In Hell"
"I Wanna Rock Live"
"For the Love of Metal"
"Highway to Hell"
"Prove Me Wrong"
DVD/Blu-Ray
"Lies Are A Business"
Pain of Traveling (Interview)
T"omorrow's No Concern"
"You Can't Stop Rock 'N' Roll"
New Record (Interview)
"The Beast"
"American Made"
"Under the Blade"
Song Writing (Interview)
"The Kids Are Back"
"Become the Storm"
"We're Not Gonna Take It"
WNGTI (Interview)
"I Am the Hurricane"
"Burn In Hell"
Rock of Ages (Interview)
"I Wanna Rock"
"For the Love of Metal"
AC/DC (Interview)
"Highway to Hell"
Credits
"Ready to Fall" (Bonus Track)
"The Fire Still Burns" (Bonus Track)
"Roll Over You" (Bonus Track)
Suzette (Interview)
Hearing (Interview)
Strangeland (Interview)
Lemmy (Interview)
Digital
"Lies Are a Business"
"Tomorrow's No Concern"
"You Can't Stop Rock 'N' Roll"
"The Beast"
"American Made"
"Under the Blade"
"The Kids Are Back"
"Become the Storm"
"We're Not Gonna Take It"
"I Am the Hurricane"
"Burn In Hell"
"I Wanna Rock"
"For the Love of Metal"
"Highway to Hell"
"Ready to Fall"
"The Fire Still Burns"
"Roll Over You"
"Prove Me Wrong"