EN SUBASTA GUITARRA USADA POR CHRIS CORNELL EN GRABACIÓN DEL ÁLBUM 'SUPERUNKNOWN'
Por Irving Vidro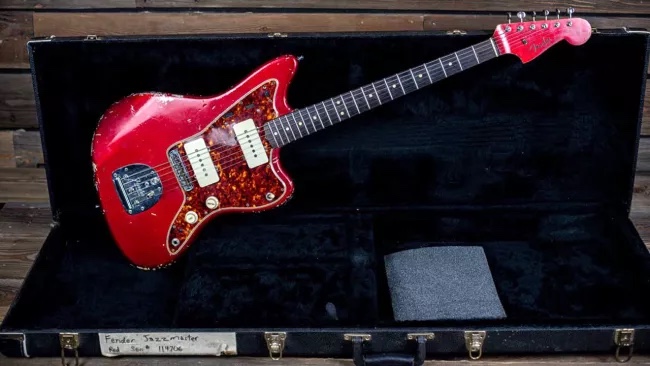 Una guitarra tocada por Chris Cornell en el emblemático álbum Superunknown de Soundgarden está en subasta.
La 1966 Candy Apple Red Fender Jazzmaster fue utilizada ampliamente por Cornell durante la grabación del álbum, y también se usó en presentaciones en vivo de My Wave y The Day I Tried to Live durante las fechas de la gira de 1993 y 1994 de la banda, y en show Live N 'Loud de MTV en 1996.
Según el productor Michael Beinhorn, Cornell tocó tres guitarras en Superunknown: una Gretsch Duo Jet, una Gretsch Silver Jet de doble cutaway y la Jazzmaster, que se usó en el sencillo Fell on Black Days.
"Fue uno de los Jazzmasters con mejor sonido que he usado en mi vida", dijo Beinhorn a Music Tech.
Cornell le dio la guitarra a su amigo de la infancia Chris Bond para evitar que se la diera a su primera esposa Susan Silver durante su divorcio en 2004. Ahora Bond la ha puesto a subasta en Gotta Have Rock and Roll. Vendrá con una carta de procedencia de Bond, una carta de tasación y un certificado de autenticidad Gotta Have Rock and Roll.
Se estima que la guitarra se venderá por entre $ 175,000 y $ 250,000. La licitación comienza en $ 125,000 y la subasta en sí comenzó el 25 de noviembre.
También están en juego una Fender Stratocaster de 1954 tocada por Eric Clapton, una guitarra acústica Yamaha tocada y firmada por Jimmy Page, una Fender Telecaster firmada utilizada por Bruce Springsteen en la gira de River, una Gibson ES-345 de 1967 usada y firmada por Chuck Berry, una guitarra Gibson Melody Maker de 1966 usada por Jimi Hendrix, una boa de plumas rosa usada por Jimi Hendrix en la portada estadounidense de Are You Experienced, la ilustración original del álbum Rock And Roll Over de Kiss, y un Ferrari negro que alguna vez fue propiedad de Eddie Van Halen.