ELTON JOHN A LANZAR 'LIVE FROM MOSCOW' DE 1979
Por Irving Vidro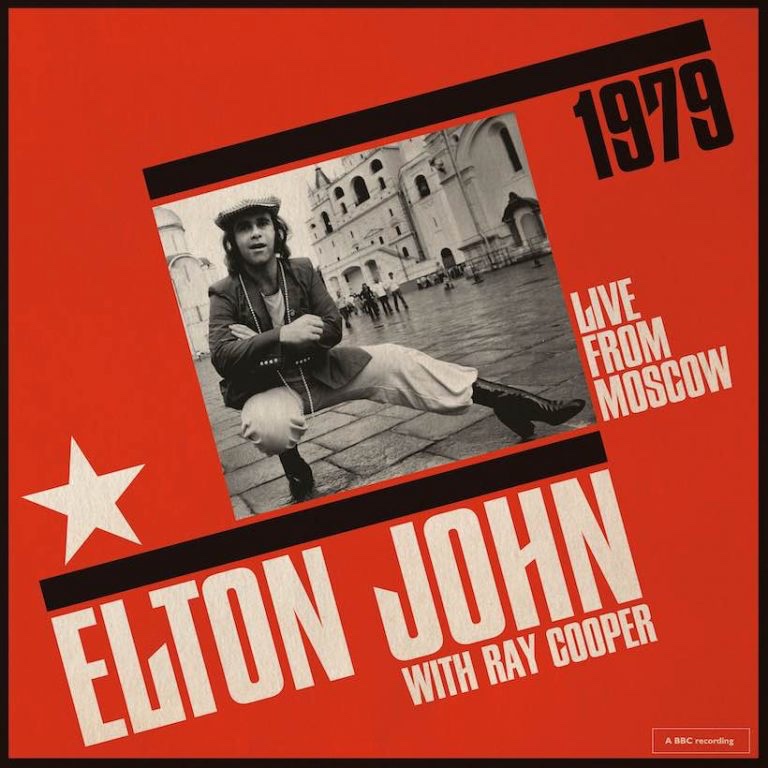 La actuación histórica de Elton John en Rusia en 1979, con el percusionista Ray Cooper, será lanzada ampliamente en el álbum por UMe el 24 de enero. Live From Moscow, que fue transmitido por BBC Radio 1 en ese momento, fue remasterizado por Bob Ludwig en 2019 a partir de las cintas analógicas originales de BBC.
El espectáculo, convirtió a Elton en la primera gran estrella occidental en tocar detrás de la Cortina de Hierro. El disco se vendió de inmediato cuando apareció como una edición limitada para el Record Store Day 2019, y se lanzará en el nuevo año en vinilo 2LP, más 2CD y formatos digitales.
El concierto llegó al final de la gira del artista A Single Man, que siguió a su álbum de 1978 con ese nombre. Lo presentaba tocando sets completamente solistas en su piano de cola Steinway y en el Yamaha CP80 eléctrico, y luego regresaba para una segunda mitad acompañado por la figura más grande de la vida del percusionista y colaborador de Elton, Cooper.
El espectáculo en la URSS tuvo lugar en el Salón Rossiya en Moscú y señaló un descongelamiento significativo en las relaciones Este-Oeste, lo que resultó en que las autoridades soviéticas le dieron permiso a la compañía discográfica estatal Melodiya para emitir A Single Man. Esto lo convirtió en el primer álbum pop occidental lanzado oficialmente en la URSS.
El set de 16 canciones fue transmitido por BBC Radio 1 el 28 de mayo de 1979 y presentado por el DJ Andy Peebles, quien observó que "la audiencia rusa es mucho más moderada que las audiencias en Gran Bretaña". Pero la actuación conmovedora despertó a la audiencia rusa,a la participación completa, mientras se deleitaban con premios como una versión de 12 minutos de 'I Heard It Through The Grapevine' y un popurrí de 'Crocodile Rock' / 'Get Back' / 'Back In The URSS'.
"Puedo decir honestamente que ha sido una de las mejores experiencias de mi vida", dijo Elton sobre la gira y el concierto. "Fue una de las giras más memorables y felices en las que he estado. El último espectáculo fue probablemente uno de los mejores conciertos que he dado en mi vida. Trabajar con Ray, con solo nosotros dos en el escenario, fue estimulante y desafiante ".
'Live From Rossiya Hall, Moscow 1979'
2LP version:
Side 1
1. Daniel
2. Skyline Pigeon
3. Take Me To The Pilot
4. Rocket Man (I Think It's Going To Be A Long, Long Time)
Side 2
1. Don't Let The Sun Go Down On Me
2. Goodbye Yellow Brick Road
3. Candle In The Wind
4. I Heard It Through The Grapevine
Side 3
1. Funeral For A Friend
2. Tonight
3. Better Off Dead
4. Bennie And The Jets
Side 4
1. Sorry Seems To Be The Hardest Word
2. Crazy Water
3. Saturday Night's Alright (For Fighting) / Pinball Wizard
4. Crocodile Rock / Get Back / Back In The U.S.S.R
2CD version:
CD1
1. Daniel
2. Skyline Pigeon
3. Take Me To The Pilot
4. Rocket Man (I Think It's Going To Be A Long, Long Time)
5. Don't Let The Sun Go Down On Me
6. Goodbye Yellow Brick Road
7. Candle In The Wind
8. I Heard It Through The Grapevine
CD2
1. Funeral For A Friend
2. Tonight
3. Better Off Dead
4. Bennie And The Jets
5. Sorry Seems To Be The Hardest Word
6. Crazy Water
7. Saturday Night's Alright (For Fighting) / Pinball Wizard
8. Crocodile Rock / Get Back / Back In The U.S.S.R