EAGLES Y THE DOOBIE BROTHERS AL CABO EN VIVO
Por Irving Vidro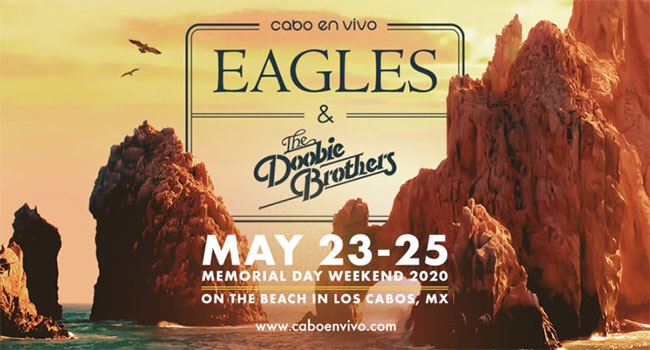 Cabo en Vivo presenta a los Eagles y The Doobie Brothers en una exclusiva experiencia de concierto de lujo en Cabo San Lucas durante el Memorial Day Weekend 2020. Los Doobie Brothers actuarán el sábado 23 de mayo con los Eagles el domingo 24 de mayo. La escapada de destino de alta gama es una oportunidad única en la vida para experimentar dos noches de actuaciones inolvidables frente al mar en el hermoso Cabo Corridor, para una multitud selecta en un entorno íntimo. Como la banda estadounidense de más ventas de los años 70 y uno de los actos más vendidos de todos los tiempos, los Eagles han vendido más de 150 millones de álbumes en todo el mundo, obtuvieron seis álbumes número 1 y encabezaron las listas de singles cinco veces. Durante más de cuatro décadas, The Doobie Brothers han sido conocidos por ofrecer rock and roll alucinante, basado en las raíces, cargado de armonía e impulsado por la guitarra, todo lo cual culminó recientemente en una nominación para el Salón de la Fama del Rock & Roll 2020.
• Sábado 23 de mayo de 2020: Una tarde con The Doobie Brothers – Tom Johnston, Michael McDonald, Pat Simmons y John McFee
• Domingo 24 de mayo de 2020: Una noche con los EAGLES: Don Henley, Joe Walsh y Timothy B. Schmit, con Deacon Frey y Vince Gill, interpretando sus grandes éxitos icónicos.