DEMANDAN CREADORES DOCUMENTALES DE U2,ELTON JOHN,ROLLING STONES Y OTROS MÁS
Por Irving Vidro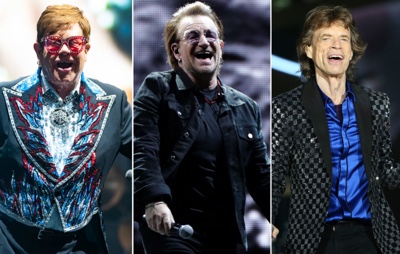 Los documentales musicales sobre artistas como Elton John, U2 y The Rolling Stones han sido descritos como "nada más que un sistema de entrega de materiales infringidos intencionalmente" en una nueva demanda.
Las compañías que poseen los derechos de los éxitos enormemente populares de los artistas antes mencionados se han unido para demandar a compañías como la firma británica Coda Publishing, el distribuidor Vision Films y el director Robert Carruthers.
Según la demanda, artistas como ABBA, Nirvana, Lynyrd Skynyrd y Red Hot Chili Peppers también fueron objeto de documentales que utilizaron música protegida sin permiso previo.
Entre las películas que presuntamente infringen los derechos de autor se encuentran The Rolling Stones – Their Satanic Majesties, The Rolling Stones – Big Hits, ABBA – The Gold Singles, U2 – Phenomenon – Part 2, Nirvana – The Path From Incesticide to In Utero, Nirvana – The Ultimate Review, Elton John – In Performance, Red Hot Chili Peppers – Behind the Music, Red Hot Chili Peppers – Phenomenon y Lynyrd Skynyrd – Rock Cases Studies.
Los títulos han sido retirados de Amazon después de que la queja fue presentada en la corte federal de Nueva York.
La demanda solicita al tribunal que declare que los acusados infringieron intencionalmente los derechos de autor, que ordene que se destruyan todas las copias de las películas y que otorgue daños legales de hasta $ 150,000 por infracción o daños reales más las ganancias de los acusados.