DEF LEPPARD ANUNCIA BOX SET 'THE EARLY YEARS '79-'81'
Por Irving Vidro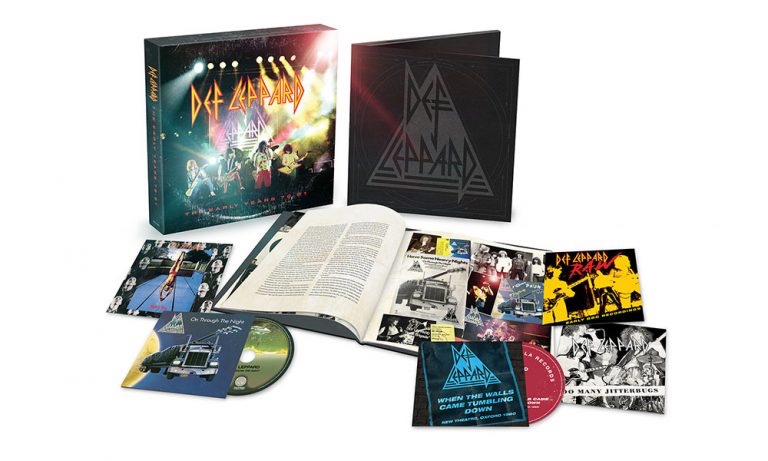 El 20 de marzo, Def Leppard lanzará el box set The Early Years 79-81, la colección definitiva de la música de comienzos de la banda, en UMC / Virgin.
The Early Years 79-81 box set representa los primeros dos álbumes de la banda, On Through The Night (1980) y High 'N' Dry (1981), y ha sido preparado en conjunto con el cantante Joe Elliott, quien ha actuado como productor ejecutivo en el conjunto. La masterización ha sido realizada por el ingeniero de sonido de la banda, Ronan McHugh.
Este conjunto de lujo viene con 5 CD que consisten en el álbum original remasterizado, lados B, rarezas y versiones de mezcla, sesiones de Radio One, Live from Reading y la primera aparición de un programa inédito y recientemente mezclado de Oxford en 1980. Estos remasterizaciones han sido muy esperados y muy solicitados por los fanáticos de Def Leppard a nivel mundial.
El álbum también presenta la versión muy buscada, producida por Nick Tauber de "Rock Brigade", que originalmente fue escrita como un single para el Reino Unido, pero nunca se lanzó en ese momento.
Joe Elliott dice: "Bueno, los fanáticos preguntaron, ¡y nosotros escuchamos! Realmente emocionado de que nuestros primeros años se vuelvan a trabajar con una carga de material raro, incluido el recién descubierto Live en el Oxford New Theatre, grabado en la gira por el Reino Unido de 1980 … ¡Ha sido un viaje armar esta caja y espero que todos disfruten escuchándola tanto como nosotros trabajando en ella! "
En Through The Night, el álbum debut de la banda, fue lanzado en 1980 e inmediatamente notificó al mundo del rock. La banda estaba destinada a grandes cosas con el álbum en el puesto número 15 en el Reino Unido y el número 51 en los Estados Unidos. Producido por Tom Allom (Judas Priest, Black Sabbath), contó con muchos de los favoritos en vivo de la banda y algunas versiones actualizadas de los primeros singles. El álbum alcanzó el estatus de platino en 1989.
High 'N' Dry, el primer álbum de Def Leppard producido por Robert 'Mutt' Lange, fue lanzado en 1981. Alcanzó el número 26 en las listas del Reino Unido y el número 38 en los EE. UU., Consolidando aún más el estado de la banda.
El Box Set de Early Years 79-81 incluye una historia de los primeros dos álbumes de la banda escritos por Mojo y el escritor de Rock clásico Paul Elliott (sin relación) con ideas personales de la banda sobre la creación y lanzamiento de esos primeros discos, así como fotos raras y recuerdos. Ambos álbumes han sido remasterizados y estarán disponibles como CD estándar, en vinilo negro y en vinilo de edición limitada en color.
The Early Years 79-81' 5CD:
CD1: On Through The Night – Re-Mastered
'Rock Brigade'
'Hello America'
'Sorrow Is A Woman'
'It Could Be You'
'Satellite'
'When the Walls Came Tumbling Down'
'Wasted'
'Rocks Off'
'It Don't Matter'
'Answer to The Master'
'Overture'
CD2: High N' Dry – Re-Mastered
'Let It Go'
'Another Hit and Run'
'High N Dry (Saturday Night)'
'Bringin' On the Heartache'
'Switch 625'
'You Got Me Runnin'
'Lady Strange'
'On Through the Night'
'Mirror Mirror (Look into My Eyes)'
'No No No'
CD3: When The Walls Came Tumbling Down – Live In Oxford 26/04/1980
'When the Walls Came Tumbling Down'
'It Could Be You'
'Rock Brigade'
'Satellite'
'Medicine Man'
'Answer to the Master'
'When the Rain Falls'
'Sorrow Is a Woman'
'Good Morning Freedom'
'Don't Matter to Me'
'Overture'
'Lady Strange'
'GetchaRocks Off'
'Hello America'
'Wasted'
'Ride into The Sun'
CD 4: Too Many Jitterbugs – B-Sides And Rarities:
'Ride into The Sun' – The Def Leppard EP
'Getcha Rocks Off' – The Def Leppard EP
'The Overture' – The Def Leppard EP
'Wasted' -Single
'Hello America' – Single
'Rock Brigade' – Unreleased Nick Tauber produced version
'Glad I'm Alive' – Unreleased Nick Tauber produced version
'Good Morning Freedom' – Single
'Let It Go' – Single Edit
'Switch 625' – Single Edit
'Bringin' On the Heartbreak' – Single Edit
'Me and My Wine' – Original Version
'Bringin' On the Heartbreak' – Remix
'Me and My Wine' – Remix
CD5: Raw – Early BBC Recordings
'Glad I'm Alive' (Andy Peebles Session – 07/06/1979)
'Sorrow Is A Woman' (Andy Peebles Session – 07/06/1979)
'Wasted' (Andy Peebles Session – 07/06/1979)
'Answer to The Master' (Andy Peebles Session – 07/06/1979)
'Satellite' (Friday Rock Show Session – 03/10/1979)
'Rock Brigade' (Friday Rock Show Session – 03/10/1979)
'Wasted' (Friday Rock Show Session – 03/10/1979)
'Good Morning Freedom' (Friday Rock Show Session – 03/10/1979)
'Satellite / When the Walls Came Tumbling Down' (Live at the Reading Festival – 24/08/1980)
'Medicine Man' (Live at the Reading Festival – 24/08/1980)
'The Overture' (Live at the Reading Festival – 24/08/1980)
'Lady Strange' (Live at the Reading Festival – 24/08/1980)
'Getcha Rocks Off' (Live at the Reading Festival – 24/08/1980)