DEF LEPPARD A LANZAR 'HYSTERIA AT THE O2' Y 'HITS VEGAS LIVE AT PLANET HOLLYWOOD' EN VERSIÓN AUDIO
Por Irving Vidro
Eagle Rock Entertainment lanzará versiones de audio independientes de Hysteria At The O2 y Hits Vegas, Live At Planet Hollywood, de los miembros del Salón de la Fama del Rock and Roll británico Def Leppard el 16 de octubre.
Inicialmente emparejados en un conjunto audiovisual en caja (ahora agotado) el pasado mes de mayo (London To Vegas), estos estarán disponibles como DVD + 2CD y Blu-ray + 2CD, más un LP de vinilo azul transparente de edición limitada.
"Hysteria At The O2" se grabó en diciembre de 2018 en el esperado debut de DEF LEPPARD en el famoso O2 Arena de Londres. Para este histórico evento de regreso a casa, la banda interpretó en su totalidad su innovador álbum "Hysteria", certificado con diamantes y diez veces platino. Joe Elliott (voz), Phil Collen (guitarra), Rick Savage (bajo), Rick Allen (batería) y Vivian Campbell (guitarra) encendieron a la multitud con los favoritos de los fans "Pour Some Sugar On Me", "Rocket", "Love Bites "y" Animal ", así como éxitos adicionales como" Photograph "y" Let's Get Rocked ".
Hits Vegas, Live At Planet Hollywood tuvo lugar justo después de que Def Leppard fuera incluido en el Salón de la Fama del Rock and Roll. Capturado durante su residencia en el Zappo's Theatre de Planet Hollywood, este conjunto de 28 canciones muestra a la banda ofreciendo actuaciones de alto octanaje de sus mayores éxitos y rarezas.
Destacando la amplitud de su destreza en el escenario, Hits Vegas presenta a la banda no solo en un set de dos escenarios con enormes pantallas de video, sino que transporta a la audiencia con versiones íntimas y acústicas de pistas raras, como "Let Me Be The One" y "We Belong".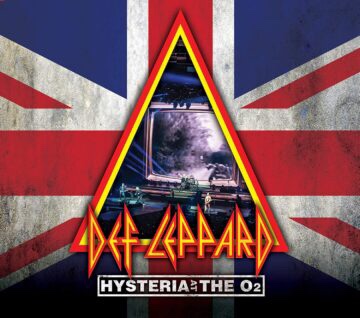 Hysteria At The O2 CD:
Disc 1:
Intro (Medley)
"Women"
"Rocket"
"Animal"
"Love Bites"
"Pour Some Sugar On Me"
"Armageddon It"
"Gods of War"
"Don't Shoot Shotgun"
"Run Riot"
"Hysteria"
"Excitable"
"Love and Affection"
Disc 2:
"Wasted"
"When Love and Hate Collide"
"Let's Get Rocked"
"Rock of Ages"
"Photograph"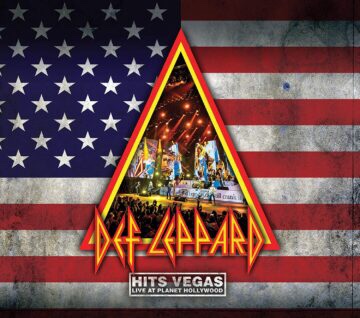 DVD+2CD/BLU-RAY+2CD:
Hits Vegas Visual Disc:
"Die Hard The Hunter"
"Animal"
"Excitable"
"Foolin'"
"Too Late For Love"
"Billy's Got A Gun"
"Slang"
"Promises"
"Paper Sun"
"Let It Go"
"Mirror, Mirror (Look Into My Eyes)"
"Bringin' On The Heartbreak"
"Switch 625"
"Let Me Be The One"
"We Belong"
"Have You Ever Needed Someone So Bad"
"Two Steps Behind"
"Now"
"Rocket"
"Let's Get Rocked"
"Hysteria"
"Love Bites"
"Armageddon It"
"Pour Some Sugar On Me"
"Action"
"Let's Go"
"Rock Of Ages"
"Photograph"
Hits Vegas CD1:
"Die Hard The Hunter"
"Animal"
"Excitable"
"Foolin'"
"Too Late For Love"
"Billy's Got A Gun"
"Slang"
"Promises"
"Paper Sun"
"Let It Go"
"Mirror, Mirror (Look Into My Eyes)"
"Bringin' On The Heartbreak"
"Switch 625"
Disc 2:
"Let Me Be The One"
"We Belong"
"Have You Ever Needed Someone So Bad"
"Two Steps Behind"
"Now"
"Rocket"
"Let's Get Rocked"
"Hysteria"
"Love Bites"
"Armageddon It"
"Pour Some Sugar On Me"
"Action"
"Let's Go"
"Rock Of Ages"
"Photograph"