DAVID LEE ROTH COMIENZA RESIDENCIA EN LAS VEGAS
Por Irving Vidro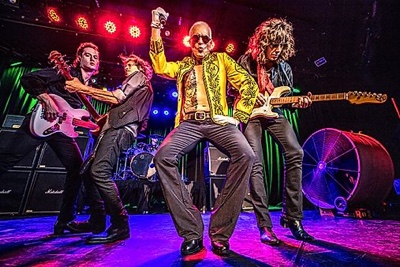 David Lee Roth mezcló los clásicos de Van Halen con una marca única de narración en su primer concierto en solitario completo en 13 años anoche en Las Vegas.
Roth, de 65 años, era enérgico, entusiasta y atractivo, omitiendo la mayoría de las acrobacias y bailes de las giras anteriores. A veces también se perdía notas, claves u ocasionalmente versos enteros, sobre todo en "California Girls", durante el cual estalló su ahora famosa disculpa "Olvidé las malditas palabras".
El conjunto de quince canciones contó con 10 clásicos de los años de Van Halen, 5 canciones (en gran parte versiones) de sus álbumes en solitario, y al menos media docena de historias extendidas sobre su vida y carrera.
Durante estos interludios, que encontraron que su banda lo respaldaba con versiones instrumentales de canciones como "Walk on the Wild Side" de Lou Reed y "Thank You (Falettinme Be Mice Elf Again) de Sly y Family Stone", reveló Roth, entre muchos otros. cosas: que el grupo J-Pop Rampage de Exile Tribe había cortado recientemente un gran cheque para licenciar una próxima versión de "Jump". También explicó cómo las cejas hicieron que los perros fueran más amables que los gatos: "¿Quién sabe qué demonios están pensando?"
Al Estrada de la banda tributo a Van Halen, Eruption, se encargó del trabajo de guitarra principal, junto con el guitarrista rítmico Frankie Lindri, el bajista Ryan Wheeler, el tecladista Danny Wagner y el baterista Mike Mussleman.
https://youtu.be/jWY8URg9Nhk
https://youtu.be/AVxLo38a8U8
David Lee Roth Set List – Enero 8, 2020 House of Blues Las Vegas
1. "You Really Got Me" (Kinks cover) – de Van Halen (1978)
2. "Big Train" – de Your Filthy Little Mouth (1994)
3. "Unchained" – de Fair Warning (1981)
4. "Just Like Paradise" – de Skyscraper (1988)
5. "Atomic Punk" – de Van Halen (1978)
6. "Dance the Night Away – de Van Halen II (1979)
7. "Mean Street" – de Fair Warning (1981)
8. "California Girls" – (Beach Boys cover) de Crazy from the Heat (1985)
9. "Tobacco Road" (John D. Loudermilk cover) de Eat 'Em and Smile (1986)
10. "Jamie's Cryin'" – de Van Halen (1978)
11. "Beautiful Girls" – de Van Halen II (1979)
12. "Panama" – de 1984 (1984)
13. "Ain't Talkin' 'Bout Love" – de Van Halen (1978)
14. "Just a Gigolo / I Ain't Got Nobody" ( Irving Caesar, Leonello Casucci / Roger Graham, Spencer Williams covers) – de Crazy from the Heat (1985)
15. "Jump" – de 1984 (1984)