¿CERCA EL LANZAMIENTO DEL NUEVO ÁLBUM DE HAYLEY WILLIAMS?
Por Irving Vidro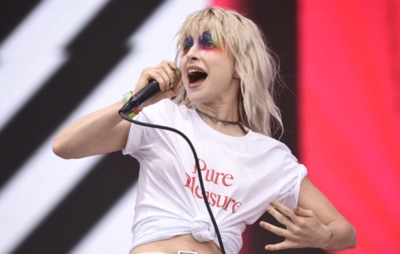 A fines de diciembre, la líder de Paramore, Hayley Williams, celebró su cumpleaños con la noticia de que lanzará música en solitario en enero.
Ahora la vocalista publicó tres misteriosos cuadrados negros en Instagram durante la noche, generando teorías de que la música pronto estará aquí, y ahora ha lanzado el primer vistazo de lo que está por venir.
Hoy temprano, los fanáticos vieron un póster de Williams y la frase "Petals for Armor " en los Estados Unidos, incluida la ciudad de Nueva York y su ciudad natal de Nashville.
SO IM IN NYC WALKING AROUND AND I COME ACROSS THIS!!!!!!!!!!!!!! @yelyahwilliams #petalsforarmor pic.twitter.com/noYJ4RYX8U

— jada 🔅🧸 (@sequinrue) January 6, 2020
Los fanáticos se dirigieron inmediatamente al sitio en el póster, petalsforarmor.com. Cuando se accedió por primera vez, el sitio reprodujo un GIF, que ya generó algunas teorías de los fanáticos.
on the petals for armor website there's a gif with white text in the corner and if you look very closely you can see black text that CLEARLY says paramore so i think this 100% confirms an album drop. pic.twitter.com/bNqskUaHcy

— lauren/ivy (@RAGElSQUIET) January 6, 2020
Los fanáticos también señalaron que una página de Instagram ya se inició con el nombre, lo que podría sugerir que es el nombre del nuevo proyecto. La primera publicación es del 25 de octubre, dos meses antes de que Williams confirmara el proyecto, que puede ver a continuación.
La cuenta, que sigue Williams, ha compartido varias imágenes de flores desde su primera publicación en octubre. Anoche, imitó los tres cuadrados negros de Williams en la alimentación. También publicó el video visto en el feed de Williams.
La publicación de Instagram solo presenta cinco segundos de lo que está por venir. Una cámara enfoca la luna mientras se mueve a través del bosque antes de que salga un jadeo.
El clip termina con la fecha del 22 de enero, lo que podemos suponer significa que es cuando la vocalista compartirá su primera música nueva.