BUSH A PRESENTAR CONCIERTO VIRTUAL POR LANZAMIENTO DEL ÁLBUM 'THE KINGDOM'
Por Irving Vidro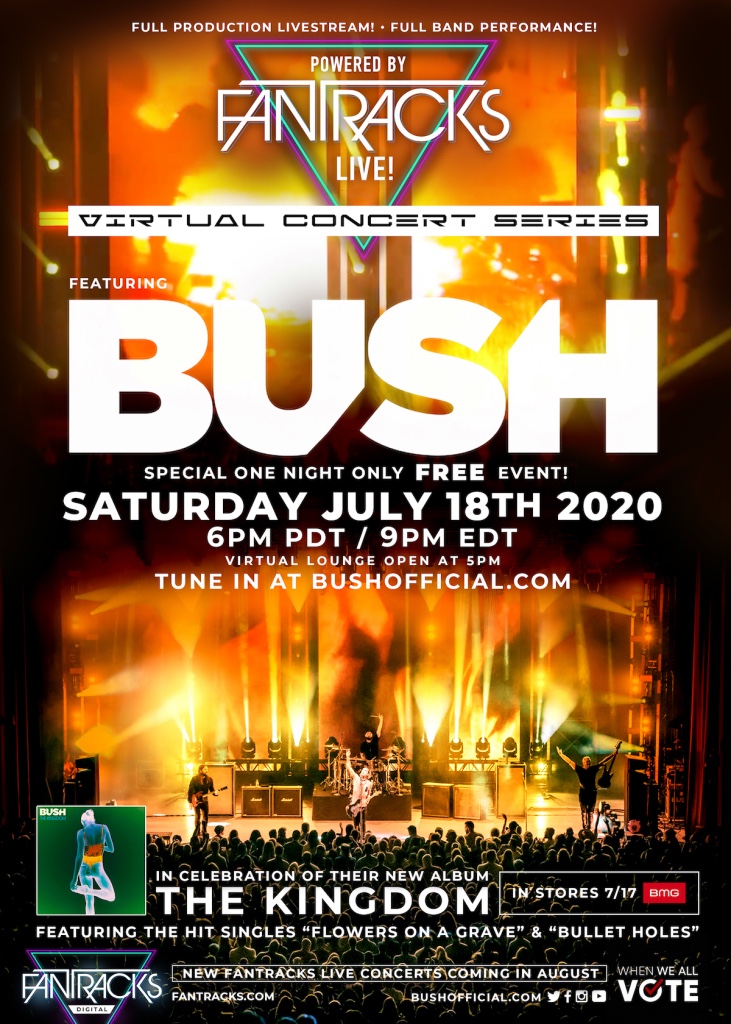 Bush lanzará un nuevo álbum, The Kingdom, este viernes, y lo celebrarán con un espectáculo de arena virtual de producción completa el sábado. La banda está llamando al concierto de transmisión un "evento innovador".
El espectáculo está siendo producido por Fantracks y promete ser un concierto de "alta calidad, cuidadosamente seleccionado y producido profesionalmente". Si bien Fantracks ofrece un servicio de suscripción, el concierto de Bush se ofrece de forma gratuita. La transmisión en vivo comienza a las 9:00 p.m. ET / 6:00 p.m. PT el sábado (18 de julio) en el sitio web oficial de Bush.
Durante el programa, los fanáticos tendrán la oportunidad de comprar el nuevo álbum de Bush, The Kingdom, a un precio con descuento de $ 5.99 para una descarga digital y $ 8.99 (más envío) para una versión en CD. Cincuenta centavos de cada venta del álbum irán a la organización sin fines de lucro When We All Vote.
El líder Gavin Rossdale y compañía ya han visto cierto éxito con el nuevo álbum, con el último sencillo "Flowers on a Grave" subiendo en la lista de radio de rock. Si no hubiera sido por la pandemia, Bush habría comenzado una gira por Estados Unidos con Breaking Benjamin el miércoles (15 de julio). Por ahora, sus planes de gira están en espera.
Sintonice el sábado para la transmisión en vivo de Bush. Mientras tanto, mire el video de "Flowers on a Grave" a continuación.