BPMD LANZA VERSIÓN DE 'TOYS IN THE ATTIC' DEL ÁLBUM 'AMERICAN MADE'
Por Irving Vidro
BPMD, el nuevo supergrupo compuesto por Bobby Blitz (Overkill), Mike Portnoy (Sons of Apollo, The Winery Dogs, ex-Dream Theater), Mark Menghi (Metal Allegiance) y Phil Demmel (Vio-Lence, ex-Machine Head) acaba de detallar su álbum de versiones de American Made, además de lanzar un video para su versión del clásico "Toys in the Attic" de Aerosmith.
El disco American Made presenta estrictamente selecciones de versiones de bandas estadounidenses, como ZZ Top, Ted Nugent, Blue Oyster Cult y, la principal inspiración detrás del proyecto, Lynyrd Skynyrd. El verano pasado, el bajista Menghi estaba en su patio escuchando canciones de rock de los 70 cuando salió "Saturday Night Special" de Skynyrd y pensó en lo divertido que sería tocar la canción.
Fue el hijo de 8 años de Menghi quien lo alentó a buscar un álbum de covers, por lo que armó la alineación. Cada miembro escogió dos canciones de los años 70 de grupos estadounidenses y las sesiones de grabación pronto comenzaron.
"Toys in the Attic", que se puede escuchar en el video musical a continuación, sirve como el primer adelanto de American Made cuando BPMD le dio un giro metálico al favorito de Aerosmith de 1975.
Para Blitz, esto terminó siendo un guiño a sus raíces como cantante, ya que recordó: "Recuerdo muuuuuuuuuucho tiempo atrás cuando Overkill se formó interpretando covers cuando estaba encontrando mi camino alrededor del micrófono,no faltaba Aerosmith , así que cuando Mike escogió 'Toys' para cubrir, yo estaba como … 'Hell Yea'! "
"Fue complicado porque Aerosmith tiene dos guitarristas, Joe Perry y Brad Whitford, tocando cosas diferentes", dijo Demmel, listo para el desafío. "Así que, como guitarrista, tuve que elegir un lugar medio entre los dos que sonaba bien", continuó.
American Made se lanzará el 12 de junio a través de Napalm Records.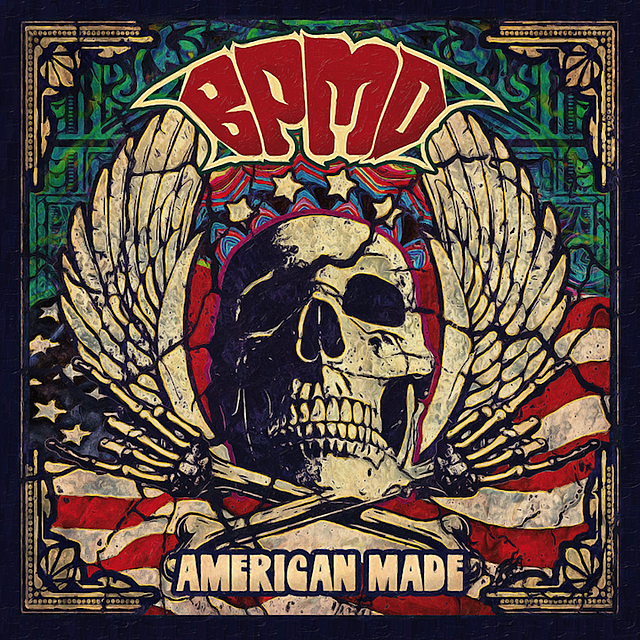 "Wang Dang Sweet Poontang" (Ted Nugent cover)
"Toys in the Attic" (Aerosmith cover)
"Evil" (Cactus cover)
"Beer Drinkers & Hell Raisers" (ZZ Top cover)
"Saturday Night Special" (Lynyrd Skynyrd cover)
"Tattoo Vampire" (Blue Oyster Cult cover)
"D.O.A." (Van Halen cover)
"Walk Away" (James Gang cover)
"Never in My Life" (Mountain cover)
"We're an American Band" (Grand Funk Railroad cover)