BLUE ÖYSTER CULT ANUNCIA LANZAMIENTO DE '45TH ANNIVERSARY LIVE IN LONDON'
Por Irving Vidro
Blue Öyster Cult ha anunciado otro lanzamiento especial en vivo desde sus archivos. 45 aniversario: Live In London se lanzará el 7 de agosto en CD / DVD, Blu-ray y 2xLP. La actuación, capturada en Londres en el O2 Indigo en el Stone Free Festival, incluye una presentación completa de su legendario álbum debut, además de más cortes de su histórico catálogo.
Los fanáticos ya pueden ver una presentación de "Stairway To The Stars"
La banda también está a punto de completar su nuevo álbum de estudio, The Symbol Remains, que se lanzará en octubre a través de Frontiers Music Srl.
En 2017, el poderoso Blue Öyster Cult celebró su 45 aniversario con una serie de festivales y fechas de titulares en todo el Reino Unido y Europa. La aparición de la banda en Londres en el O2 Indigo en el Stone Free Festival el 17 de junio comenzó con una presentación del primer álbum de BÖC en su totalidad, una celebración del 45 aniversario de su lanzamiento. Además, la banda agregó cortes especiales seleccionados de su catálogo al set.
El programa completo se filmó en 4K UHD y es otro lanzamiento de archivo único que los fanáticos de la banda no pueden perderse.
Provenientes de Nueva York, Blue Öyster Cult ha cosechado una gran aclamación de la crítica y una base de fans dedicada construida en sus álbumes de estudio, temas como "(Don't Fear) The Reaper", "Godzilla" y "Burning For You", y su increíble actuación en vivo. muestra.
45th Anniversary – Live In London se une a otros lanzamientos especiales de 2020 de la banda, incluidos Hard Rock Live Cleveland 2014, 40th Anniversary – Agents Of Fortune – Live 2016 y iHeart Radio Theater N.Y.C. 2012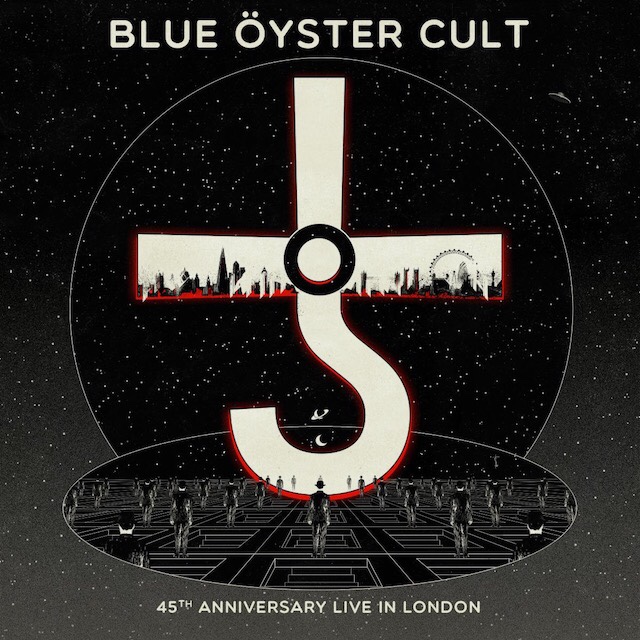 Tracklisting CD/DVD/BR:
"Transmaniacon MC"
"I'm On The Lamb, But I Ain't No Sheep"
"Then Came The Last Days Of May"
"Stairway To The Stars"
"Before The Kiss, A Redcap"
"Screams"
"She's As Beautiful As A Foot"
"Cities On Flame With Rock And Roll"
"Workshop Of The Telescopes"
"Redeemed"
"Buck's Boogie"
"Godzilla"
"(Don't Fear) The Reaper"
"Tattoo Vampire"
"Hot Rails To Hell"
DVD and Blu-ray includes Behind-The-Scenes Bonus Video Footage