BLACK SABBATH ANUNCIA EDICIONES AMPLIADAS DE ' HEAVEN AND HELL' Y 'MOB RULES'
Por Irving Vidro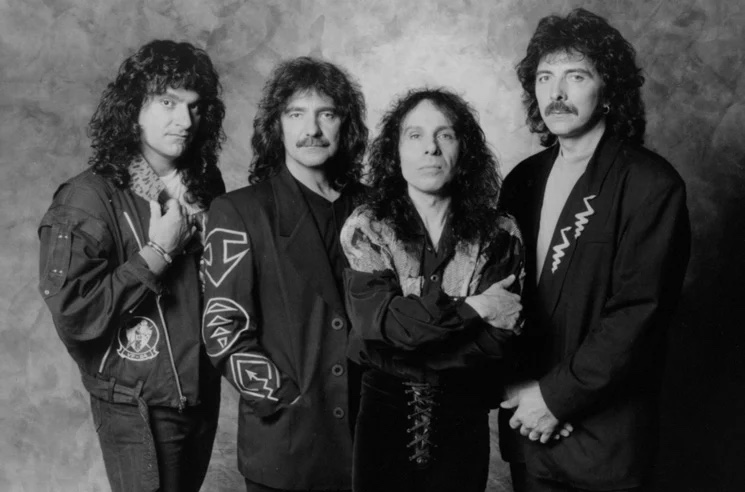 Antes de dar a su Vol. 4, una reedición masiva el próximo mes, Black Sabbath se adelantará a su era con Ronnie James Dio al anunciar ediciones ampliadas de Heaven and Hell de 1980 y Mob Rules de 1981.
Las nuevas ediciones de lujo de los álbumes de la era Dio llegarán el 5 de marzo a través de Rhino, que también está a cargo del Vol. 4. A lanzarse digitalmente y como paquetes de 2-CD y 2-LP, Heaven and Hell y Mob Rules reeditados vienen cargadas con material extra.
La expansión Heaven and Hell traerá el álbum original junto con versiones en vivo de "Children of the Sea" y "Die Young" de un concierto de 1980 en Hartford, CT, además de versiones en vivo de "E5150" y "Neon Knights" que fueron anteriormente, una parte del set en vivo de 2007 Black Sabbath: Live at Hammersmith Odeon.
Las pistas adicionales de Mob Rules incluyen una nueva mezcla de 2021 de la canción principal, más de Hammersmith Odeon y un concierto completo grabado en 1982 en Portland, Oregón. Antes de su lanzamiento , las versiones en vivo de las canciones principales de ambos álbumes están disponibles para escuchar a continuación.
Heaven and Hell marcó el primer álbum en presentar a Dio en el lugar del vocalista Ozzy Osbourne, mientras que el baterista Bill Ward sería reemplazado por Vinny Appice para la siguiente gira y Mob Rules. Esta formación, que luego grabaría y actuaría como Heaven & Hell, también se unió como Black Sabbath para Dehumanizer de 1992.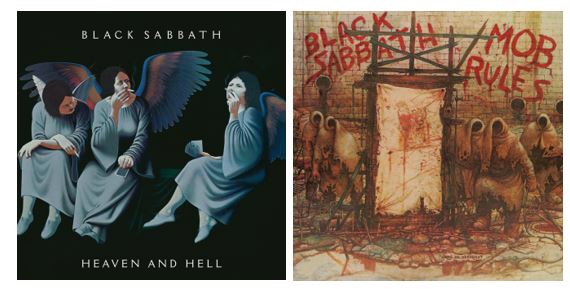 "Heaven And Hell: Deluxe Edition" 2-CD track listing
Disc One: Original Album (2021 Remaster)
Neon Knights
Children Of The Sea
Lady Evil
Heaven And Hell
Wishing Well
Die Young
Walk Away
Lonely Is The Word
Disc Two: Bonus Tracks
Children Of The Sea – Live B-Side Of "Neon Knights" *
Heaven And Hell – Live B-Side Of "Die Young" *
Lady Evil – 7″ Mono Edit (unreleased on CD)
Hartford Civic Center, Hartford, CT (August 10, 1980)
Neon Knights *
Children Of The Sea *
Heaven And Hell *
Die Young *
Hammersmith Odeon, London (Dec 31, 1981- Jan 2, 1982)
E5150
Neon Knights
Children Of The Sea
Heaven And Hell
"Mob Rules: Deluxe Edition" 2-CD track listing
Disc One: Original Album (2021 Remaster)
Turn Up The Night
Voodoo
The Sign Of The Southern Cross
E5150
The Mob Rules
Country Girl
Slipping Away
Falling Off The Edge Of The World
Over And Over
Bonus Tracks
The Mob Rules – Heavy Metal Soundtrack Version
Die Young – Live B-Side Of "Mob Rules" 7″ *
The Mob Rules – New 2021 Mix **
Live At The Hammersmith Odeon London (31/12/81 – 2/1/82)
Country Girl
Slipping Away
The Mob Rules
Voodoo
Live At Portland Memorial Coliseum, Portland, OR, April 22, 1982
Intro **
Neon Knights **
Disc Two: Bonus Tracks
Live At Portland Memorial Coliseum, Portland, OR, April 22, 1982
N.I.B. **
Children Of The Sea **
Voodoo **
Black Sabbath **
War Pigs **
Drum Solo **
Iron Man **
The Mob Rules **
Heaven And Hell **
Guitar Solo **
Sign Of The Southern Cross/Heaven And Hell – Reprise **
Paranoid **
Children Of The Grave **
inédito en América del Norte
** inédito