ANTHRAX LANZA RELOJ EDICIÓN LIMITADA
Por Irving Vidro
Los maestros del thrash , Anthrax han unido fuerzas con los estudios Nezumi con sede en Estocolmo y su fundador David Campo para crear y producir el reloj de buceo Nezumi Baleine limitado a 50 piezas, edición Anthrax Persistence Of Time.
El reloj se inspiró en Persistence Of Time, certificado en oro y nominado al Grammy, que actualmente celebra su 30 aniversario de lanzamiento. Cada uno de los 50 relojes está numerado individualmente, fue diseñado al 100% por Nezumi y cuenta con una caja revestida en negro satinado DLC, un movimiento mecánico japonés, luminova suiza en la esfera y las manecillas, y una correa de cuero curtido vegetal de primera calidad.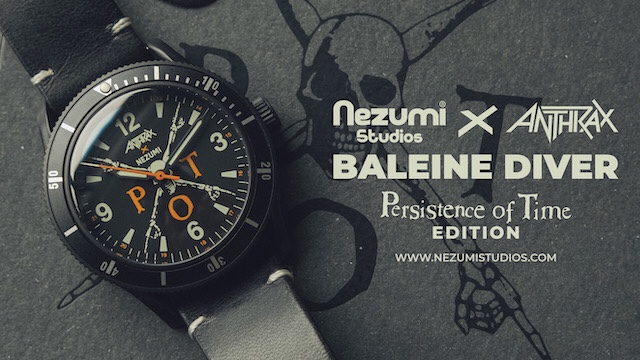 "Dado que el álbum Persistence Of Time se centra en el concepto de 'tiempo', asociarnos con Nezumi para producir este reloj fue una gran idea. El reloj es hermoso y sería un gran regalo navideño para alguien especial, y sé que estoy deseando recibir el mío ". – expresó Joey Belladonna