ÁLBUM TRIBUTO A T-REX Y MARC BOLAN A CONTAR CON ARTISTAS COMO U2,ELTON JOHN Y JOAN JETT
Por Irving Vidro
U2 y Elton John se han unido para interpretar "Bang a Gong (Get It On)" para AngelHeaded Hipster: The Songs of Marc Bolan y T. Rex, un álbum tributo que llegará el 4 de septiembre.
La colección de 26 temas y dos discos también incluye interpretaciones de Joan Jett ("Jeepster"), Todd Rundgren ("Planet Queen") y Perry Farrell ("Rock On"). El sencillo principal del LP, la versión de Nick Cave de "Cosmic Dancer", ya está disponible
El proyecto fue curado por Hal Willner, el famoso productor que murió a principios de este mes de COVID-19.
"Hal tuvo una visión única de la música de Marc Bolan, y trabajar en AngelHeaded Hipster le trajo una gran alegría", dijo la productora supervisora ​​Rachel Fox en un comunicado de prensa. "Hablando por las personas más cercanas a él, siempre estaremos desconsolados por la pérdida prematura de nuestro querido amigo y motor creativo insustituible. Hal, quien se refirió a AngelHeaded Hipster como su 'White Album' , estaba ansioso por que todos escucharan estas hermosas canciones y comenzaran a pensar en Bolan y T. Rex nuevamente. Este álbum es un testimonio del espíritu de Hal ".
El título del disco proviene de una línea que se encuentra en "Howl" de Allen Ginsburg, donde el poeta elogió el nacimiento del rock n 'roll como "hipsters con cabeza de ángel ardiendo por la antigua conexión celestial con el dinamo estrellado en la maquinaria de la noche".
T. Rex se encuentra entre los miembros de este año en el Salón de la Fama del Rock & Roll, reuniendo suficientes votos en su primer año en la boleta. Se suponía que la ceremonia de inducción tendría lugar el próximo fin de semana en Cleveland, pero la pandemia de coronavirus la retrasó hasta el 7 de noviembre.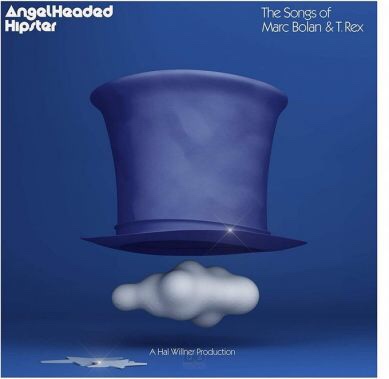 'AngelHeaded Hipster: The Songs of Marc Bolan and T. Rex' Track Listing
Disc 1
"Children of the Revolution" – Kesha
"Cosmic Dancer" – Nick Cave
"Jeepster" – Joan Jett
"Scenescof" – Devendra Banhart
"Life's a Gas" – Lucinda Williams
"Solid Gold, Easy Action" – Peaches
"Dawn Storm" – BØRNS
"Hippy Gumbo" – Beth Orton
"I Love to Boogie" – King Khan
"Beltane Walk" – Gaby Moreno
"Bang a Gong (Get It On)" – U2 feat. Elton John
"Diamond Meadows" – John Cameron Mitchell
"Ballrooms of Mars" – Emily Haines
Disc 2
"Main Man" – Father John Misty
"Rock On" – Perry Farrell
"The Street and Babe Shadow" – Elysian Fields
"The Leopards" – Gavin Friday
"Metal Guru" – Nena
"Teenage Dream" – Marc Almond
"Organ Blues" – Helga Davis
"Planet Queen" – Todd Rundgren
"Great Horse" – Jessie Harris
"Mambo Sun" – Sean Lennon and Charlotte Kemp Muhl
"Pilgrim's Tale" – Victoria Williams with Julian Lennon
"Bang a Gong (Get It On) Reprise" – David Johansen
13."She Was Born to Be My Unicorn" / "Ride a White Swan" – Maria McKee