A SUBASTA GUITARRA AUTOGRAFIADA POR CLAPTON,PAGE,BECK Y GILMOUR ENTRE OTROS
Por Irving Vidro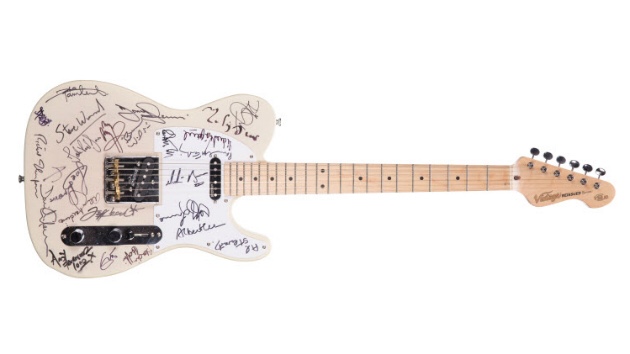 Una lista asombrosa de leyendas del rock, incluidas Paul McCartney, Eric Clapton, Jimmy Page y Pete Townshend, han firmado una guitarra eléctrica que se subastará el próximo mes para recaudar dinero para ayudar al veterano guitarrista de folk-rock Jerry Donahue, que sufrió un accidente cerebrovascular en 2016.
El instrumento, un modelo de Telecaster Jerry Donahue, también ha sido autografiado por Robert Plant, David Gilmour, Brian Wilson, Mark Knopfler, Jeff Beck, Jeff Lynne, John Paul Jones, Tony Iommi, Al Jardine, Steve Winwood, Al Stewart, Martin Barre y otros.
La venta, organizada por la casa de subastas Gardiner Houlgate, se llevará a cabo el 11 de diciembre en Wiltshire, Reino Unido. Se estima que la guitarra generará entre 10,000 y 20,000 libras(entre $12,800 y $25,700).
Donahue, originario de los Estados Unidos, tocó con las bandas británicas de folk-rock Fairport Convention y Fotheringay durante la década de 1970, y luego grabó y / o estuvo de gira con artistas como Plant, Elton John, The Beach Boys, Gerry Rafferty, Gary Wright, Warren Zevon, Bonnie Raitt, Roy Orbison y The Yardbirds.