'68 ANUNCIA ÁLBUM Y PRESENTA PRIMER SENCILLO 'THE KNIFE,THE KNIFE,THE KNIFE'
Por Irving Vidro
El dúo '68 con sede en Atlanta ha anunciado su tan esperado tercer álbum de larga duración con el nombre de "Give One Take One", que saldrá el 26 de marzo a través de Cooking Vinyl .
Para celebrar el anuncio del disco, la banda ha compartido el primer sencillo del LP en forma de video musical oficial de "The Knife, The Knife, The Knife". El clip fue creado por el vocalista y guitarrista Josh Scogin (The Chariot, Norma Jean). El baterista Nikko Yamada completa el dúo.
"Producido por el ganador del Grammy Nick Raskulinecz (Foo Fighters, Rush, Alice In Chains), quien se convirtió en un creyente después de unas pocas canciones de un set en vivo de '68, Give One Take One ofrece lo mejor de la composición estridente pero dinámica de la banda con mucha personalidad y un ritmo indomable ", señala un comunicado de prensa. "El álbum sigue los pasos del EP 2020 de la banda, Love Is Ain't Dead, que también fue grabado con Raskulinecz cuando sus planes de gira para apoyar a Korn y Faith No More se vieron frustrados por la pandemia".
Hablando sobre el anuncio, Scogin afirma: "De toda la música que he creado a lo largo de los años, este álbum contiene algunos de mis momentos favoritos, lírica, musical e incluso mentalmente; Viajo por varios caminos que son a la vez terapéuticos para desahogarme y aterrador para compartir con el mundo. Creo que puedes sentir la alegría tangible que la música nos da a cada uno de nosotros en este álbum; Nick capturó la naturaleza explosiva e implosiva que hace que el 68 siga avanzando. Puedes escuchar la pasión y la sinceridad que Nick, Nikko y yo tenemos por el arte de crear sonidos. Estoy muy orgulloso de este álbum y honrado por el viaje que tomó para llegar aquí. Y si soy honesto, la gran mayoría de mis pensamientos giran en torno a la esperanza de poder interpretar estas canciones en vivo algún día pronto ".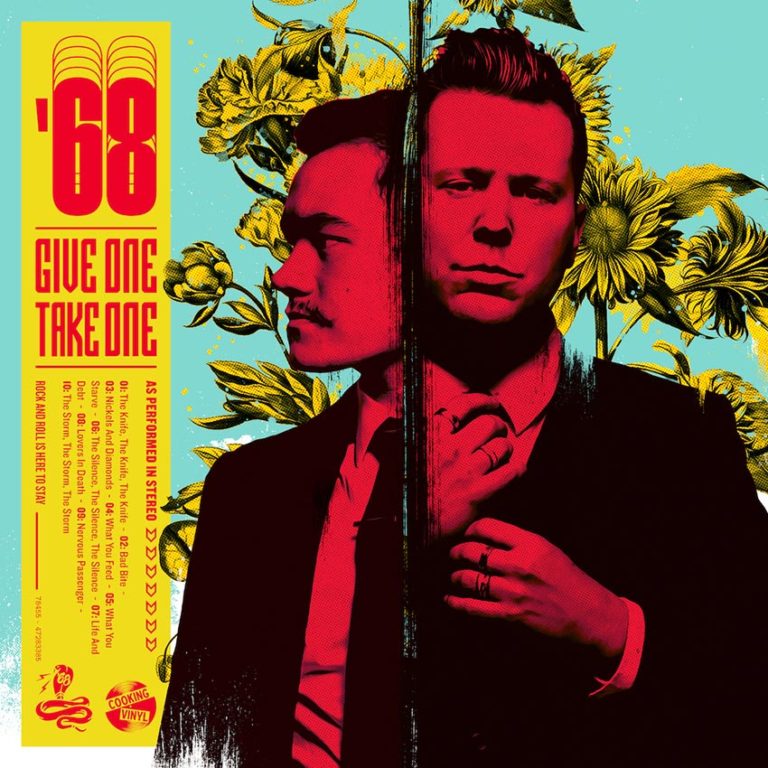 Give One Take One' track list:
The Knife, The Knife, The Knife
Bad Bite
Nickels and Diamonds
What You Feed
What You Starve
The Silence, The Silence, The Silence
Life And Debt
Lovers In Death
Nervous Passenger
The Storm, The Storm, The Storm